Category:
MLB
Comments:
0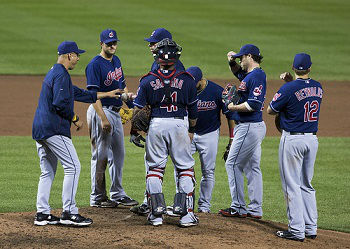 Flickr
There are a couple good pitching matchups on Wednesday, April 22nd but based on the lines, only one of them makes good betting sense. Normally, Kershaw vs. Bumgarner is a lock for the under, but not in this case. Firstly, the line is at 6 runs. Even a well-pitched game could go over that if a reliever gives up a late two run bomb. Second, Kershaw and Bumgarner aren't exactly pitching like Kershaw and Bumgarner. Both have inflated ERAs (4.42 and 5.29, respectively), more hits than innings pitched and are giving up home runs at an atypically high rate. Kershaw may still be reeling from his subpar playoff performance while Bumgarner may be hungover from his exceptional one, and while they will figure it out eventually, there is no chance this game will be under 6 runs total.
The second matchup is Kluber vs. Samardzija. Kluber has hardly missed a step coming off his Cy Young Award winning 2014 campaign. He has opened with three straight strong starts, pitching into at least the seventh inning each time. Samardzija has improved steadily each start, and is coming off an eight inning performance where he yielded just one run. The most attractive aspect of this matchup is the line: 7.5 runs. This will be a tightly contested pitchers' duel where runs will be at a premium. I'm expecting a couple at most from each team. Take the under here, and you will not be disappointed.
While Kershaw-Bumgarner gets all the accolades and hype, Kluber-Samardzija will live up to it. They may still be secondary names to the former two, and probably deservedly so, but on this day – bet on the dark horse: Cleveland-ChiSox Under 7.5.