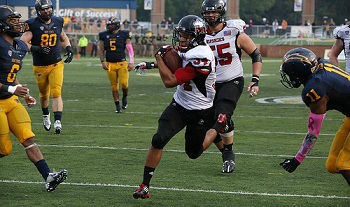 lindsayjf91 flickr
East Division

1. Bowling Green

2013: 10-4 (7-1)

2013 Offense/Defense FBS Rankings: Offense: 29th Defense: 5th
Returning Starters: Offense: 7 Defense: 6

Bowling Green unseated Northern Illinois last season as they upset the Huskies 47-27 in the MAC title game. The win for Bowling Green took Northern Illinois out of a BCS picture and we could very well have a rematch between these squads in the 2014 MAC title game. The Falcons had one of the best defenses I have ever seen in the MAC a season ago as they held 7 of their opponents to 7 points or less on their way to boasting the 5th best scoring defense in the country. The defense should be solid again up front, but the secondary returns just one starter. The new coaching staff is bringing in a new offense which features the up-tempo style. The new offense brings excitement, but it will also take some getting used to for the players. QB Matt Johnson came onto the scene as a replacement in Bowling Green's first game of 2013 and he never relinquished the starting job after that point. Johnson is back on offense along with RB Travis Greene who rushed for 1,594 yards in 2013. The Falcons appear to be in a great spot to repeat as MAC champs.

2. Akron

2013: 5-7 (4-4)

2013 Offense/Defense FBS Rankings: Offense:110th Defense: 74th
Returning Starters: Offense: 8 Defense: 5

The Zips were a tough team to figure out last season as they went from nearly upsetting Michigan at the Big House to getting blown out at home against Ohio and Ball State. Akron showed moments of brilliance, but those were too few and far between for the Zips in 2013. In what appears to be a wide open race below Bowling Green in the MAC East Akron has the most intriguing case to be second in our rankings. The offense has the potential to be great as the Zips are loaded at the skill position including junior QB Kyle Pohl who comes back for his second season starting under center. Senior RB Jawon Chrisholm has led the team in rushing in each of the past 3 seasons and he will lead the run game for one more go round. The defense has question marks up front, but the addition of former Ohio State Se'Von Pittman could be a big difference maker here. The two leading tacklers from a season ago are back at LB, but there will be two new starters at corner.

3. Kent State

2013: 4-8 (3-5)

2013 Offense/Defense FBS Rankings: Offense: 106th Defense: 68th
Returning Starters: Offense: 7 Defense: 7

The Kent State Golden Flashes dealt with injuries and a developing QB last season on the way to a 4-8 record, but the team closed strong with blowout wins against Miami and Ohio to close out the regular season. Kent State's last game in particular, which was a 44-13 win on the road against Ohio, should have given the squad something to build around going into the offseason. QB Colin Reardon is back and ready to improve on the mild success he had in 2013 in his first season as a starter. RB Trayion Durham has been dealing with injuries over the past year, but when healthy he has shown the ability to be a 1,000+ yard rusher. The LB corps and secondary look to be an area of strength with experience and talented transfers coming on board, but there are serious question marks along the line with Roosevelt Nix moving on after being All-MAC four times.

4. Buffalo

2013: 8-5 (6-2)

2013 Offense/Defense FBS Rankings: Offense: 55th Defense: 40th
Returning Starters: Offense: 6 Defense: 4

The Buffalo Bulls closed last season losing three of their final four contests including a 24-49 Bowl loss against SDSU. The Bulls had a resurgence in 2013, but it will be tough replacing LB Khalil Mack who was one of the best defenders in the history of the MAC conference. The offense will be more pass oriented this season with QB Joe Licata returning under center to run the show. QB was a question mark coming into last season, but everyone knows whose running the offensive unit now and that should cause the offense to be more productive coming out of the gate. The defense losing 7 starters will hurt, but veterans DT Kristjan Sokoli and LB Adam Redden will help the transition.

5. Ohio

2013: 7-6 (4-4)

2013 Offense/Defense FBS Rankings: Offense: 74th Defense: 72nd
Returning Starters: Offense: 3 Defense: 8

The Ohio Bobcats had to say goodbye to the Tyler Tettleton and Beau Blankenship era as the QB and RB both ended their all time great careers for the University of Ohio. 2013 was a disappointing season for the Bobcats as the two veteran leaders couldn't prop up the declining talent around them any longer. This season the offense returns just three starters and there is likely to be growing pains with either QB Derrius Vick or JD Sprague under center filling the duel-threat role. 2013 was a rebuilding year on defense and that was a major reason why the Bobcats fell well short of their lofty expectations. The defense expects to be much better this season with experience and depth returning at every position.

6. Miami, Ohio

2013: 0-12 (0-8)

2013 Offense/Defense FBS Rankings: Offense: 125th Defense: 108th
Returning Starters: Offense: 8 Defense: 7

The RedHawks were likely the worst team in college football last season as they were routinely blown out in MAC play and they only had 2 games all season where they were able to keep the final score within a 7 point margin. The RedHawks' problem started on the offensive end where they averaged just 9.8 points per contest. New head coach Chuck Martin has had success coaching over the past decade where he led Grand Valley State through tremendous success at the DII level and most recently he was the OC for Notre Dame. Martin will hope to revive the Miami offense with Notre Dame transfer QB Andrew Hendrix and TE Alex Welch along with a wealth of returning players at WR and on the O-line. The defense is also bringing back a ton of experienced players, but this unit was nearly as bad as the offense was last season.

7. UMass

2013: 1-11 (1-7)

2013 Offense/Defense FBS Rankings: Offense: 124th Defense: 98th
Returning Starters: Offense: 7 Defense: 5

The Minutemen went just 1-11 last season with their only win coming in a competitive 17-10 home victory against Miami Ohio (0-12). UMass nixed the MAC by not committing as a full member so they will move out of the conference after the 2015 season. UMass didn't want their basketball team to leave the more prestigious A-10, so I expect the MAC football teams to give everything they have in an effort to make the Minutemen's transition out of the conference as unpleasant as possible. New head coach Mark Whipple has brought in a ton of new faces to help turn the offense around, but it's yet to be seen how the new pieces mesh together. The defense was pushed against the wall time and again last season because of the offense, but the coaches are optimistic about the returning talent on this side of the ball at LB and in the secondary.

West Division

1. Northern Illinois

2013: 12-2 (8-0)

2013 Offense/Defense FBS Rankings: Offense: 12th Defense: 52nd
Returning Starters: Offense: 9 Defense: 6

2013 ended in heartbreak for Northern Illinois as they were primed to make an appearance in a BCS bowl game only to lose in the MAC title game to Bowling Green. Northern Illinois now begins the post Jordan Lynch era, but fortunately for the Huskies there are a lot of pieces left from last season's 12-2 squad. The RB position is stacked as bruising back Cameron Stingily returns after a 1,119 yard season along with the potential featured back Akeem Daniels who sat out last season with an injury. The O-line also returns 4 starters to what was one of the best units in the MAC along with 2 deep threats with senior WR's Tommylee Lewis and Da'Ron Brown. The defense returns a talent group of LBs along with capable new starters along the line, but Jimmie Ward will be missed in the secondary.

2. Toledo

2013: 7-5 (5-3)

2013 Offense/Defense FBS Rankings: Offense: 40th Defense: 74th
Returning Starters: Offense: 7 Defense: 9

The Rockets are the biggest threat to dethrone Northern Illinois in the MAC West and they have closed the gap between them and the Huskies significantly since Jordan Lynch isn't under center for NIU. The Rockets have been potent on offense ever since they switch to the spread and they have playmakers all over to continue to put up big numbers in 2014. The O-line returns 4 starters to a unit which allowed just 6 sacks last season. At RB 1,100 yard rusher Daivd Fluellen returns along with Kareem Hunt who showed promise during his freshman campaign. The Rockets also returns a bevy of talent at receiver, but they have a new QB which is likely to be Logan Woodside leading the attack. The Rockets are deep and talented on defense with 9 starters returning including five of the top six tacklers from 2013.

3. Central Michigan

2013: 6-6 (5-3)

2013 Offense/Defense FBS Rankings: Offense: 97th Defense: 74th
Returning Starters: Offense: 11 Defense: 8

The Chips finished 2013 on a three game winning streak to end the season 6-6, but their wins came against Western Michigan, UMass, and Eastern Michigan which were teams that finished well below CMU in the MAC. Central returns the most starters of any team in the nation and this veteran group could be a surprise squad to win the MAC West since Toledo and Northern Illinois both have to replace their starting QBs. Central returns everyone on offense including a solid front line, NFL prospect receiver Titus Davis, and QB Cooper Rush who took over for the injured Cody Kater last season. CMU returns 8 starters on defense including potential All-MAC LB Justin Cherocci. The Chips are in their third season of the 4-2-5 and should show improvement with the now familiar scheme.

4. Ball State

2013: 10-3 (7-1)

2013 Offense/Defense FBS Rankings: Offense: 16th Defense: 47th
Returning Starters: Offense: 6 Defense: 6

This feels too low a ranking for Ball State after they nearly took the MAC West title a season ago, but they will face tougher competition from teams other than Northern Illinois in 2014. The Ball State offense is in nearly a complete rebuild as QB Keith Wenning moves on along with 3 of the top 4 receivers from a season ago. The Cardinals will build around the run with three solid returning starters along the line along with the top 2 backs from a season ago. Ball State has a new DC who will work with a solid secondary and LB corps, but there is a lot of work left to do on the D-line.

5. Eastern Michigan

2013: 2-10 (1-7)

2013 Offense/Defense FBS Rankings: Offense: 114th Defense: 124th
Returning Starters: Offense: 9 Defense: 6

The Eagles have been in the gutter of the MAC for what seems like forever and the program has produced just 4 winning seasons since 1975. It looks to be another tough season for the Eagles as they bring back 15 players to a team that ranked near the bottom of the NCAA in offense and defense in 2013. The strength of Eastern was with running back Bronson Hill who rushed for 1,101 yards in 2013, but the new head coach wants to focus more on the pass with sophomore QB Brogan Roback who is one of the highest caliber recruits to sign with Eastern Michigan in the program's history. The offense returns 4 O-linemen along with their top 4 receivers from a season ago which will help the new pass focus. The defense is going to be a nightmare as they are thin at almost every spot, especially in the secondary.

6. Western Michigan

2013: 1-11 (1-7)

2013 Offense/Defense FBS Rankings: Offense: 119th Defense: 106th
Returning Starters: Offense: 8 Defense: 4

Last season was a big disappointment in Kalamazoo as the Broncos struggled to find the right man under center and the defense didn't help matters ranking 106th in points given up per game. Starting QB Tyler Van Tubbergen lost his job to Zach Terrell last season, but Terrell could lose his job to the incoming freshman Chance Stewart who was a Wisconsin commit. Western brought in a top MAC recruiting class so there will be a number of young guys competing for playing time right away. The defensive secondary is loaded with talent, but LB remains a big question mark. The D-line is young, but Michigan transfer Richard Ash will bring experience from a big time program.