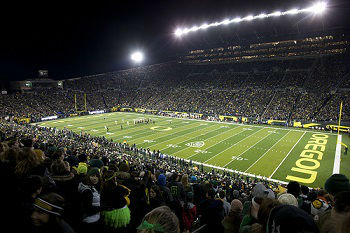 rayterrill flickr
North Division

1. Oregon

2013: 11-2 (7-2)

2013 Offense/Defense FBS Rankings: Offense: 4th Defense: 13th
Returning Starters: Offense: 9 Defense: 6

The Oregon Ducks got the surprise of the offseason when sure fire top overall pick QB Marcus Mariota decided to come back for another season in Eugene. With Mariota's return Oregon became instant top contenders for this season's college playoff and the offense returns a ton of talent around their star QB. 9 starters come back to an offense that averaged 45.5 points per game a season ago and Oregon has an even higher ceiling in 2014 if Mariota can stay fully healthy for the entire campaign. Oregon's defense was solid, but they weren't as good as they needed to be against some of the better teams the Ducks faced in 2013. The Ducks gave up 20 or more points in 6 of their final 8 games after not giving up more than 16 points in any of their first 5 games of the season. The defense brings in a new DC in Don Pellum who has put an emphasis on getting strong up front.

2. Stanford

2013: 11-3 (7-2)

2013 Offense/Defense FBS Rankings: Offense: 46th Defense: 10th
Returning Starters: Offense: 5 Defense: 6

Stanford won the PAC 12 last season as they took down both Oregon and ultimately Arizona State on their way to the Pac 12 title and a berth into the Rose Bowl. Stanford represented the PAC 12 well, but they came up just short in the Rose Bowl against an underrated Michigan State squad. The Cardinal return starting QB Kevin Hogan, but he didn't show the kind of development in 2013 that everyone was expecting. I would like to see Stanford go to the air more in 2014 with talent at the receiver position with Montgomery, Cajuste, and Rector, combined with the fact the O-line has to replace 4 starters and Stanford is in rebuild mode at RB with 4 guys potentially in the mix. The defense has to replace a lot of talent, but Stanford has the guys needed to be exceptional on this side of the ball again this season.

3. Oregon State

2013: 7-6 (4-5)

2013 Offense/Defense FBS Rankings: Offense: 30th Defense: 91st
Returning Starters: Offense: 8 Defense: 6

The Beavers had a strange 2013 season as they lost their opener against FCS Eastern Washington, then they won 6 straight only to close the regular season losing 5 straight. At 6-6 Oregon State went to the Hawaii Bowl and the Beavers were able to pull off a nice 38-23 win against Boise State to end the season on a high note. Oregon State is my sleeper team in the PAC 12 as I think they could possibly play spoiler to teams like Oregon and Stanford in the PAC 12 North. Last season Oregon State lost to Oregon by 1 point on the road and they nearly beat Stanford at home, but they fell in that contest as well right at the end. The Beavers return senior QB Sean Mannion who is coming off a crazy productive season where he threw for 4,662 yards and 37 TDs. The Beavers are solid at LB and in the secondary, but the D-line is in a rebuild with one returning starter.

4. Washington

2013: 9-4 (5-4)

2013 Offense/Defense FBS Rankings: Offense: 19th Defense: 29th
Returning Starters: Offense: 7 Defense: 5

The Washington Huskies are coming off a 9-4 season and they finished 2013 on a high note beating BYU in the Fight Hunger Bowl 31-16. Washington has gone through a number of changes in the offseason with their head coach going to USC and both QB Keith Price and RB Bishop Sankey having moved on. Former head coach of Boise State Chris Peterson will take over and his first order of business is finding his QB and RB for the future. The leader for the QB job is the athletic Cyler Miles who is a threat in both the run and pass games. The replacement RBs will be Dwayne Washington who has incredible top end speed and LB Shaq Thompson who was impressive in spring with the carries he received. The O-line is strength with 5 starters returning, including 4 seniors. The defensive front seven are strong, but the secondary will be young and inexperienced.

5. Washington State

2013: 6-7 (4-5)

2013 Offense/Defense FBS Rankings: Offense: 53rd Defense: 97th
Returning Starters: Offense: 8 Defense: 6

Washington State showed growth in the Mike Leach system with late season wins against Arizona and Utah on their way to a bowl game. The Cougars remained impressive in the pass game averaging 368 yards per contest through the air which was 4th best in the nation, but the run game was still almost a non-factor as Washington State ranked 126th in rushing. QB Connor Halliday returns after throwing for 4,597 yards and 34 TDs, but Halliday also tallied 22 INTs. The Cougars are loaded at receiver with 5 returning wideouts who caught at least 40 passes in 2013. The front seven looks to be the strength of the defense, but the secondary is a rebuild with only 1 returning starter. Washington was second in the PAC 12 in forcing turnovers and the defense could regress if this trend doesn't continue.

6. California

2013: 1-11 (0-9)

2013 Offense/Defense FBS Rankings: Offense: 98th Defense: 125th
Returning Starters: Offense: 8 Defense: 6

The Golden Bears were unable to record a win against an FBS team in 2013 and there aren't a lot of expectations for this squad which figures to be the worst in the conference again in 2014. Freshman QB Jared Goff showed promise throwing for 3,508 yards before getting injured against Stanford in the final game of the regular season. The Golden Bears will try a slightly more balanced approach on offense this season giving the backs more touches. When head coach Sonny Dykes had success with Louisiana Tech it was because of the incredible balance the offense displayed. The Bears' 2013 defense was the worst in school history, but the defensive unit was dealing with a plethora of injuries. There are still question marks up front, but with an influx of returning players who are coming off injuries the defense expects to get better.

South Division

1. UCLA

2013: 10-3(6-3)

2013 Offense/Defense FBS Rankings: Offense: 21st Defense: 35th
Returning Starters: Offense: 8 Defense: 8

The Bruins were on the cusp of a potential PAC 12 title a season ago, but they came up just short in what was otherwise a successful campaign. UCLA looks to build on the success they had a season ago with the return of 16 starters including Heisman candidate QB Brett Hundley. The Bruins are loaded with solid contributors at receiver and back, but Hundley is really what makes this offense an elite unit. The O-line was shaky at best last season and I attribute a lot of UCLA's 2013 shortcomings to this unit. It was frustrating seeing how awful the center exchange was and bad snaps often times put Hundley in an, improvise or get sacked, situation. If the QB-center exchange can get to an average level of consistency expect an even more composed and dominant Hundley to take over the PAC 12. The defense losses Anthony Barr, but the Bruins developed a lot of young talent on what was a better than expected defense in 2013. The young guys have gained valuable experience and this unit expects to be even better in 2014.

2. Arizona State

2013: 10-4 (8-1)

2013 Offense/Defense FBS Rankings: Offense: 11th Defense: 64th
Returning Starters: Offense: 7 Defense: 3

The Sun Devils came on the scene strong in 2013 winning 8 conference games including impressive wins against conference foes such as UCLA and Washington. Arizona State is the returning PAC 12 South champs and it won't be easy for their challengers to dethrone them with starting QB Taylor Kelly returning. Last season Kelly had a great campaign throwing for 3,635 yards and 28 TDs as well as rushing for 473 yards and 8 TDs. The loss of Marion Grice out of the backfield hurts, but DJ Foster is a solid replacement. The O-line returns a strong unit, but the receiving depth behind standout Jaelen Strong is a question mark. The defense is a complete rebuild with 8 starters needing to be replaced. The Sun Devils figure to be in a number of shootouts this coming season as the defense gets put to the fire with a plethora of new guys filling the void.

3. USC

2013: 10-4 (6-3)

2013 Offense/Defense FBS Rankings: Offense: 61st Defense: 16th
Returning Starters: Offense: 7 Defense: 7

The Trojans bring in new head coach Steve Sarkisian to try and turn around the storied USC program. Sarkisian will implement an up-tempo, no-huddle offense to a program that has run the traditional offense with incredible success during their history. USC fans might be quick to turn on the up-tempo offense, much like Michigan under Rich Rodriguez, if they don't see results very early on. QB Cody Kessler returns after closing last season strong, but Marqise Lee is no longer around so pass catchers like Nelson Agholor, and Randall Telfer will have to step up. The offensive line must replace 3 starters and this is a position of concern going into camp. USC's new DC will switch the scheme to a 3-4 from the 5-2 and there are expected to be some growing pains as players get comfortable in the new system. A loaded D-line will help the transition and the secondary is a much more experienced group than what we saw a season ago.

4. Arizona

2013: 8-5 (4-5)

2013 Offense/Defense FBS Rankings: Offense: 37th Defense: 39th
Returning Starters: Offense: 6 Defense: 6

Rich Rodriguez has done a great job revitalizing the Arizona program and even though the Wildcats are a couple years away from being legit contenders; this squad has the potential to play spoiler to the top teams in the PAC 12 in 2014. The offense will look to find their 3rd new starting QB in as many years after Matt Scott and BJ Denker both showed varying amounts of success during their one year runs in Rodriguez's offense. USC transfer Jesse Scroggins is the safer choice to start at QB, but if Rodriguez wants a guy under center who can start for multiple seasons then redshirt freshman Anu Solomon could be the choice to start. Not surprisingly Rodriguez has 6 starting caliber receivers on the roster and we could see more of an emphasis in the pass game as a result with RB Ka'Deem Carey going to the NFL. The defense was better than expected last season, but there are legitimate questions along the line and at LB. The secondary should be the defensive strength as Arizona returns 3 starters from what was a solid unit last season.

5. Utah

2013: 5-7 (2-7)

2013 Offense/Defense FBS Rankings: Offense: 67th Defense: 73rd
Returning Starters: Offense: 6 Defense: 5

Utah had the makings to be at the very least a bowl team last season, but the injury issues of QB Travis Wilson put those hopes on the backburner. Travis Wilson has reclaimed his starting job after spring ball, but Wilson's career-threatening medical condition could become an issue even though he has been cleared to play. I'm a big fan of Utah hiring their new OC Dave Christensen who was previously the head coach for Wyoming. Even though Utah was running a spread attack, Christensen has drastically increased the speed with which the Utes operate. Top rusher Bubba Poole returns and the O-line has been busy losing weight to adjust to the new fast paced offensive attack. There are question marks up and down the defense with only 5 starters returning along with projected starting LBs Jacoby Hale and Gionni Paul dealing with injuries. The secondary hopes to be better with the return of safety Brian Blechen.

6. Colorado

2013: 4-8 (1-8)

2013 Offense/Defense FBS Rankings: Offense: 88th Defense: 115th
Returning Starters: Offense: 7 Defense: 8

Colorado has been a laughing stock for far too long, but at least the team showed some improvement under new head coach Mike MacIntyre during his first season in Boulder. MacIntyre was wildly successful in turning around San Jose State and it will be interesting to see if he able to do the same in Colorado. Sophomore QB Sefo Liufau is the most likely starter after he showed flashes of solid play during his freshman season taking over for the ineffective Connor Wood. Colorado has intriguing talent at the skill positions, but the O-line remains a question mark. The defense was run over by PAC 12 offenses again last season, but with 8 returning starters there are reasons to be hopeful. The pieces are in place for the defense to make a significant jump in effectiveness this season.