Category:
NHL
Comments:
0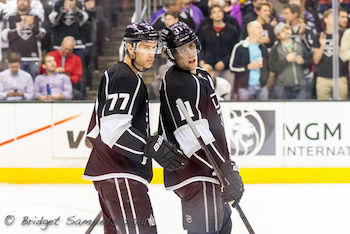 flickr bridget ds
With only 4 weeks left in the NHL regular season, I'll take a look at which current NHL futures bets offer the best value, and which ones to stay away from. Let's start in the Western Conference, as things are really heating up out there.
Bets to make right now:
LA Kings +1500 to win Cup
Minnesota Wild + 750 to win West
Bets to avoid right now:
Anaheim Ducks +300 to win West
St. Louis Blues + 500 to win West
The West appears very wide open as we hit the last stretch of the season. Right now, Anaheim and Minnesota are the hottest teams in the conference, but for different reasons. The injury to Patrick Kane really opens the door for just about any team. When we look at teams like St. Louis and Anaheim, there is great depth up front and lots of talent. However, neither team's netminding situations offer much hope. Looking at the teams to make the Cup over the last 2 years, the goalies have been Lundqvist, Quick, Crawford and Tuuka Rask. Those are 4 of the best in the business. Brian Elliott of St. Louis and John Gibson of Anaheim have neither the experience nor the mental edge to make it through one of the deepest conferences in all of sports.
On the other hand, the Kings have settled back out of the playoff picture...for now. This team is so deep, big and physical. They are also very clutch, with their ridiculous run last year. We cannot forget about Jonathan Quick, either. 15-1 odds to repeat are good enough for me to bite. This is a wide open conference and the Kings have as good of a goalie as any, and have already proven they can make a serious run. If they sneak in, they will be tough to oust. Minnesota is also capable of a run through the conference because of their goaltender. Devan Dubnyk is so hot, it's unreal. He is 17-4 SU with the Wild and is shutting down everyone. I will continue to stress that a wide open conference often sees the teams with the hot goalie emerge. Minnesota may be worth a look.
Right now, without Patrick Kane, Chicago still is loaded and I like them getting 8-1 to win the Cup. But Kane is a major injury, as this guy literally wins games by himself. Tread carefully with the Hawks as they certainly cannot be forgotten but are without their biggest star.
On to the East...
Bets to make right now:
Montreal Canadiens +400 to win East
NY Rangers +1000 to win Cup
Bets to avoid right now:
Pittsburgh Penguins +500 to win East
Tampa Bay Lightning +450 to win East
The East, like the West, is very wide open. However, I think in the end we will see that Vegas was right when it put the Rangers and Canadiens as its two favorites. The Islanders and Wings are scary, but I think the Rangers and Canadiens are the most Stanley Cup ready. Montreal has the best goalie in the conference and the best defenseman. They made lots of noise in last year's playoffs but Price's injury in the conference finals sent them home early. With the Rangers acquisition of Keith Yandle, they have the defense, the speed up front and once Lundqvist returns, the goaltending, to make a serious run and possibly earn their first cup since 94.
Pittsburgh has made a living of premature playoff exits since their Cup run. I suspect we will see the same this year. The Pens have been very weak against the other top teams from the East and I am highly expecting a first round playoff exit, as they will almost certainly need to face one of the New York teams right away, and have struggled mightily against both this year. Tampa Bay is a bit of a mess when it comes to its goaltending issues. I think this is a team that has lots of talent but as we have seen, it's not talent as much as ability to perform in the clutch that matters in the NHL playoffs. TB has no playoff experience with the squad they have now, and will have a tough time defeating Detroit and Montreal (hypothetically) just to get to the conference finals.
A lot can change between now and the start of the playoffs, but I think there are some decent value plays to be made right now. Once the playoff field is announced, I'll be back offering some series picks as well as other futures bets.