Category:
NHL
Comments:
0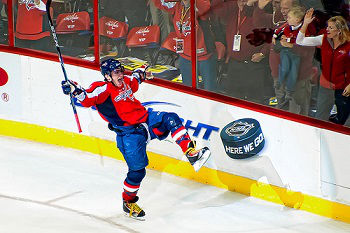 flickr clyde Writer: Jimmy Gold
Fantasy hockey drafts are months away but the time to start doing your homework is right now. June and early July have provided tons of action in the offseason with big name players being traded and free agents being signed. Teams have been scared by offer sheet threats to move players who thought they'd have a chance to stay. Let's start digging into your fantasy hockey draft by ranking right-wingers. All players positions are based off of Yahoo Sports fantasy hockey positions.
Updated: July 19th, 2015
1. Alexander Ovechkin RW/LW
Ovechkin scored 53 goals and 28 assists last year while getting to play in the playoffs. It was the sixth 50 goal season of his career. Ovechkin could be in for another historical season with the Capitals adding explosive playmaker T.J Oshie to the mix. This is a serious year for the Capitals who need to go the distance while in Ovie's primetime. Ovechkin's goals, power play time, and hits make him an easy number one pick.
2. Steven Stamkos C/RW
Stamkos took an interest in leading the Tampa Bay Lightning the right way and it paid it's way in spades for the organization. He scored 43 goals and 29 assists while participating in a deep playoff run. Expect Stamkos to be hungry to get back on the ice and lock in on his third 50+ goal season of his career.
3. Tyler Seguin C/RW
Seguin is one of the most dynamic and talented players in the NHL. He has played in five full seasons and this is the prime of his career. Dallas made one of the best trades in organizational history to pick up Seguin. He scored 37 goals and 47 assists in 80 games during the 2013-14 season. Last year he scored 37 goals and had 40 assists in 71 games. The dynamic scorer is being compared to a young Patrick Kane by Stars GM. Now is the time to shine for the talented forward. Seguin is our choice after Stamkos and Ovechkin.
4. Evgeni Malkin C/RW
Malkin has been consistent over the years but not healthy. He has missed a fair share of games over his past couple of seasons but is a shoe in for seventy points. We're not chomping at the bit to pick up Malkin but he is a fine player for many fantasy teams.
5. Patrick Kane C/RW
The new look Blackhawks have still retained their core nucleus and look poised for another lengthy run into the playoffs. Kane was hot and cold throughout the year and had to deal with injuries, despite all that, he still put together a solid season with 27 goals and 37 assists (22 PPP and 186 SO) in 61 games. Chicago's first line right-winger is one of the most dynamic and skilled players in the NHL. He has also been playing better defensively putting up a +10 last season. Look for Kane to put together another point-per-game campaign.
6. Vladimir Tarasenko RW
Tarasenko became the highest paid player in franchise history for the St. Louis Blues. He is one of the most lethal scorers in the NHL and has the potential to score 50 goals. Tarasenko scored 37 goals and 36 assists last year during a breakout season. He was one of the few players from St. Louis who could score at all in the playoffs. The Russian sniper is the future for the Blues and has an excellent hockey IQ. Look for Tarasenko to develop into a leader and one of the elite forwards in the NHL.
7. Phil Kessel RW
Kessel might have been the biggest name moved over the offseason. He will add tremendous offensive talent to the already stacked Pittsburgh Penguins core. Kessel might have outstayed his welcome in Toronto but Maple Leafs fans will miss his production. He has scored 30+ goals five times in his career. This could be a career year for Kessel while playing alongside all world player Sidney Crosby.
8. Corey Perry RW
Perry missed a fair amount of games last season but still managed 33 goals in 67 games. It's hard to pass on the Getzlaf and Perry magic. Easily a top ten right-winger.
9. Joe Pavelski C/LW/RW
Pavelski plays every game and he scores at will. 149 points and 164 games in his last two seasons, make this Sharks winger a no brainer for the top ten.
10. Claude Giroux C/RW
Last year was not a season to write home about for Giroux but he grinded his way to 25 goals and 48 assists. He is one of the most talented players in the league, but the Flyers have struggled to put the right pieces around him. Proceed with caution, I will be passing on Giroux this go around.
11. Rick Nash LW/RW
Just when fantasy owners were giving up on Rick Nash, he delivers. A much needed 42 goal and 27 assist campaign last year inches Nash closer to the top ten of right-wingers.
12. Ryan Johansen C/RW
Johansen is entering the prime of his career and posted a career high in points last season with 71. He is looking more mature and experienced which could be a lethal concoction for opponents.
13. Jakub Voracek RW
An often overlooked forward who is a high performer. Voracek scored 22 goals and 59 assists last season with the Flyers. He is in his prime and we expect another near point per game performance from him.
14. TJ Oshie C/RW
TJ Oshie makes it as our #14 right-winger climbing the rankings following one of the biggest trades of the off-season. Oshie was always one of the most offensively talented players for St. Louis but played a defensively oriented game. He hits hard and plays as strong of a two-way game as any of the top forwards in the NHL. Oshie can stick handle through anything and has enough finish to be lethal. He will likely play on the top line for the Capitals with Niklas Backstrom and Alexander Ovechkin. This could easily be the best line in the NHL and we are looking forward to seeing #77 on the ice. Oshie stands to have a career season with his inaugural season in Washington.
14. Tyler Johnson C/RW
Johnson was incredible last season, scoring 29 goals and 43 assists for the Lightning. That followed the 50 points he put up in his first year in the NHL. Johnson is the real deal and one of the reasons that the Lightning could be very good for years to come.
15. Blake Wheeler RW
Another 60 point year for the veteran winger. The Jets have an effective and consistent player here.
16. Nathan MacKinnon LW/RW
Hopefully, you were able to pick up MacKinnon during a disappointing sophomore slump last season. He scored 38 points following a 63 point rookie campaign. The first overall pick from 2013 is just getting warmed up in the NHL and we have no fear picking him up early.
17. David Backes C/RW
Linemate and leader TJ Oshie is gone which leaves another void for David Backes to fill. A jack of all trades and big time leader, he needs to find more offense for the gritty St. Louis Blues. A lock for 200+ hits, 100+ PIM, 50+ shot blocks and 50+ points. Backes is a very balanced player just don't overvalue him too much.
18. Nikita Kucherov RW
The young Russian was a key part of the Lightning's playoff run and he is coming off of a breakout sophmore season. Kucherov scored 29 goals and 36 assists while posting a +38 rating. Not to mention his fantastic play in the playoffs, scoring 22 points. Kucherov is the real deal and could easily blow past this #18 ranking.
19. Marian Hossa
The ageless Hossa makes it look easy. He scored 61 points last year and picked up another Cup. He'll be back for another 60 point year.
20. Wayne Simmonds RW
Simmonds has been consistent in Philadelphia and has scored 110 points in his last 157 games. Easy pickings here.
21. Filip Forsberg C/RW/LW
Forsberg has seemingly been forgotten by the majority of fantasy owners. Not only is he listed as every forward slot in Yahoo's player positions but he also made enormous strides in his first full NHL season. Forsberg made the All Star game and scored 26 goals with 37 assists in 82 games. That was mostly playing on the 2nd and 3rd lines of the Predators. Forsberg is a player with huge upside and could easily be in the top ten of forwards in the near future. We are high on Forsberg.
22. Jeff Carter C/RW
A no-nonsense forward with the same kind of track record. He scored 28 goals and 34 assists in 2014-15 while playing every game.
23. Jordan Eberle RW
Eberle has been as good as they come in Edmonton, playing 161 games and scoring 128 points over is last two seasons. Consistent and reliable.
24. Kyle Okposo RW
Injury issues prevented a career year for Okposo but he still managed 51 points in 60 games. Okposo is obviously a huge part of the Islanders moving forward. If he can stay healthy, this could be a 70 point year.
25. Radim Vrbata RW
Vrbata was fantasy gold in his first year with the Canucks, scoring 31 goals and 32 assists. He was exactly what Vancouver was looking for and that could be just the tip of the iceberg.
26. Patrick Hornqvist RW
Kessel's arrival might hurt Hornqvist's stock in 2015. He played in 64 games last season and scored 25 goals making that two years in a row that he has beat goalies 20+ times. While Pittsburgh's right-winger doesn't excite us too much, if he falls down the draft we would pick him up.
27. Bobby Ryan RW
There has never been a question about Bobby Ryan's scoring abilities and he put up 54 points last season. Goals were a bit down for Ryan with 18 but we think he gets back into 20+ range next season.
28. Gustav Nyquist C/RW
Detroit's electric forward got paid over the offseason, agreeing to a four-year $19 million deal. He scored 27 goals last year and put in his second straight 20+ goal season. Nyqvist is a crucial member to the Red Wings core moving forward, expect another big year.
29. Thomas Vanek
Vanek has found a home in Minnestoa and we expect a 50+ point season.
30. Brandon Saad LW/RW
Saad will find a new home in Columbus following a few glorious years with the Blackhawks. The 2nd round pick from 2011 has proven himself on the ice and was signed to a six-year $36 million contract by the Blue Jackets. He is a dynamic player who could very well have a career year in Columbus.
31. Jarome Iginla RW
Drafted in 1995, Iginla has been surprising fantasy hockey teams for awhile now. He has 120 points over his previous two seasons while playing 160 games. Iginla should provide another quality season with some power play time for the Avalanche.
32. Brian Little C/RW
The Jets center has been fairly injury free for the past couple of years and he is a lock for 50 points with a career high of 64 points. Little is a former first round pick and could have a career season if he stays healthy.
33. Jason Pominville RW
Pominville has been as consistent as they come since he joined the Wild. An iron man of the game with a high ceiling, Pominville is a great add for any team's fantasy core.
34. Mark Stone RW
A former 6th round pick from 2010. He put in a huge and much needed year offensively for the Senators. He scored 26 goals and notched 38 assists. Stone is definitely a wild card and a risky pick but there are no signs of slowdown showing. The Ottawa Senators will give him every opportunity to continue to improve but let other drafters overvalue him.
35. Ryan Callahan RW
Callahan tied his career high in points with the Lightning in 2014-15. We expect him to come down a few notches this go around but not much.
36. Ryan Kesler RW
Kesler does not get us excited this season. He signed a massive contract extension for six years. The Ducks had the cap space to do it, but overvalued Kesler. We expect more dwindling numbers for the veteran 30-year old in Anaheim.
37. Marian Gaborik LW/RW
Gaborik has been a polarizing player in the NHL, mainly because fantasy owners expect more. When Gaborik is on, he can score at will. The problem is his consistency. Expect a possible 30 goal year from the winger but the basement could be lower than desired.
38. Mats Zuccarello LW/RW
Zuccarello didn't reach the huge heights of 2013-14 last year but he did score 49 points in 78 games. He is a big piece of the Rangers offense and a very good fantasy option.
39. James Neal LW/RW
Injuries and falling production make Neal an undesired target for my fantasy team. Let everyone else take a shot at him.
40. Tyler Toffoli RW
The Kings have seemingly always lacked scoring over the past few seasons and with Justin Williams gone, it will be Toffoli who will be looked upon. The Los Angeles winger signed a $6.5 million bridge deal after scoring 23 goals last year. This could be a breakout year for the young star in LA.
41. Brendan Gallagher RW
Gallagher has been a solid member of the Canadiens youth and has scored 88 points in his last two seasons. Montreal's winger has missed just one game in that span. Expect another consistent year for Gallagher. He is a solid winger with decent upside entering his fourth NHL season.
42. Ryan Strome
The Islanders center exploded last season with 50 points in 81 games. The fifth overall pick from 2011 is going to be a major player for New York, look for him to continue to excel this season.
43. Jeff Skinner LW/RW
Someone has to score for the Hurricanes right?
44. David Perron LW/RW
Perron is a talented winger but has never quite reached is potential even with Sidney Crosby and Evgeni Malkin by his side. Maybe Phil Kessel will help? Certainly not his spot in the depth chart. Either way, Perron is part of an incredibly offensively skilled Penguins club and he certainly helps them in that regard. Defensively though, Perron leaves much to be desired with a -25 rating in 2014-15. We're going to pass on Perron if he gets drafted at his ADP.
45. Jaromir Jagr RW
The storied career of Jaromir Jagr will continue as he is reenergized from the youthful Panthers. Jagr has been an invaluable mentor to Florida's youth and a productive member of the team scoring 47 points. We expect another comparable season for Jagr.
46. Drew Stafford RW
Stafford has found resurgence in Winnipeg and he deserves it. After being dealt to the Jets, he scored nine goals and ten assists in 26 games. Look for Stafford to be a big piece for Winnipeg this season.
47. Craig Smith C/RW
Smith has been a reliable option for the Predators for the past two seasons. He has been consistent and looks to be coming into his prime. This could be another breakout season for the young Predator.
48. Loui Eriksson LW/RW
Playing the majority of the year with second line forwards Brad Marchand and Patric Bergeron, Eriksson was mediocre scoring 47 points. Fans are a bit tired of Ericsson from being part of the infamous Seguin deal, he could be traded but we don't think even that increases his value much.
49. Joffery Lupul LW/RW
Health is a concern, played just 55 games last year with 21 points for the Leafs. Has not played more than 66 games over his last four seasons. Recommend avoiding.
50. Jonathan Drouin LW/RW
The 3rd overall pick in 2013, Drouin put up 32 points in 70 games for the Lightning but only scored four goals. Drouin played on the lower lines for Tampa Bay as he earned his experience but the kid is a magical playmaker and could be a big piece for the Lightning moving forward. He could definitely be one of the top playmaking forwards in the league if he gets a shot to play on the top line(s) for the Lightning. Drouin is a high upside winger who will continue to improve as he gains experience in the NHL.
51. Justin Abdelkader LW/RW
Abdelkader put up big numbers in a larger role for the Red Wings in 2014-15. They'll need another 20+ goal season for him next year. Look for Abdelkader to deliver. He is a solid option late in the draft.
52. Justin Williams RW
Traded to the offensive Capitals from the Kings. This could be a big year for Williams playing between the first and second lines for Washington.
53. Troy Brouwer C/RW
Veteran forward Troy Brouwer finds himself on the Blues after being traded for T.J Oshie. He will likely be on the second or third line with the Blues and killing penalties. St. Louis is much more defense minded and less offensively skilled then the Capitals. Brouwer has scored 43 points in each of is previous two seasons. Expect less production then the norm for him this season.
54. Nail Yakupov RW
Oilers Nail Yakupov is one of the most scrutinized forwards in the NHL. A former #1 pick who has not lived up to the hype. Edmonton has been patient with Yakupov but eventually 33 points and a -35 rating will not be good enough for them. We recommend passing on Yakupov.
55. Valeri Nichushkin RW
Missing the majority of the season recovering from hip surgery, he played in just eight games and picked up one assist. Nichushkin was the 10th overall pick in the 2013 draft and scored 14 goals with 20 assists in his rookie campaign. The Russian winger has sleeper potential written all over him as most in your fantasy draft will have forgotten about this talented 20 year old. Nichushkin is very young and has his entire career in front of him. He has major upside with keeper territory possible if he can find his way on the top two lines for the Stars.
56. Kevin Hayes C/RW
Kevin Hayes could be a solid sleeper this season, scoring 45 points in 79 games for the Rangers in his rookie season. Greener pastures could be on the horizon for the former 24 overall pick in the 2010 draft.
57. Steven Downie LW/RW
28 points through 72 games with 238 PIM and 108 hits gives this grinding forward a spot in the top 60.
58. Dustin Brown LW/RW
59. Ales Hemsky RW
60. Alexander Semin LW/RW
Still looking for a one year deal in mid-July and scoring just six goals and 13 assists in 57 games with ample power-play time for the Hurricanes last season. The aging veteran has three 30 goal seasons under his belt but he might be playing in the KHL next year.
61. Johan Franzen LW/RW
Still recovering from concussions and hasn't skated since January. Red Wings GM says he is recovering but the writing is on the wall for the 36 year old.