Sport:
NBA
Agrees:
2
Disagrees:
2
Comments:
1
Agree
Disagree
Bet This Game!
View Odds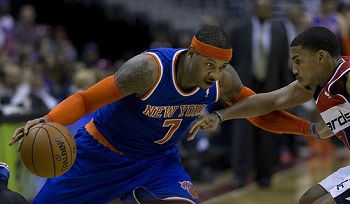 Photo: keith allison flickr
Writer: Kenneth Arthur
The Boston Celtics, coming off a close loss to the Oklahoma City Thunder, go on the road to take on the New York Knicks in the first game of the Christmas Day NBA slate.
The Celtics are looking like a solid team so far this season as Avery Bradley is playing some of the best ball of his career and Isaiah Thomas is back and looking healthy and ready to go. Boston is currently sitting at 17-13 on the season and while they are coming off a loss they have won four of their last five games overall. Amir Johnson is coming off a very big game and is about to be tested going up against Noah and O'Quinn.
The New York Knicks are coming off an east win over the Orlando Magic and seem to be back on track after a tough three game losing streak. Porzingis is apparently dealing with a sore knee but does not seem deterred as he just came out and said that in addition to playing in this Christmas Day game he intends to play in all 82 games to disprove the 'skinny Euro' label.
Take the Knicks and the points in this one as they have home court advantage and are playing well right now and with Melo playing on the biggest stage and Porzingis on the floor this team is dangerous.
View All Today's Free NBA Picks By Clicking Here!
New York Knicks +1.5 -110