Sport:
NBA
Agrees:
2
Disagrees:
1
Comments:
1
Agree
Disagree
Bet This Game!
View Odds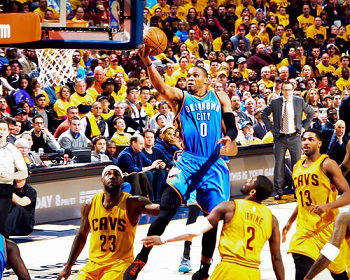 Photo: edrost88-flickr
Writer: Kenneth Arthur
The Minnesota Timberwolves, coming off a pretty disappointing home game loss to the Sacramento Kings, go on the road to take on the Oklahoma City Thunder in the first evening game of this Christmas Day slate.
The Timberwolves have to be considered one of the most disappointing teams in the league this season as they are a young team with a ton of premium talent but have not seen the development everyone hoped for under new head coach Tom Thibodeau. The Timberwolves defense continues being less than solid and if they cannot get something going in a very positive direction very soon they are going to be missing the playoffs once again.
The Oklahoma City Thunder are coming off a win over the Boston Celtics which saw Russell Westbrook continue to show that he is one of the best solo acts in the entire league. The Thunder are really not a good team but they happen to have one of the best players on the planet playing at an insanely high level, the only issue is that he is pretty much all on his own.
Take the Thunder in this one as there is no one on Minnesota that can stop Russell Westbrook and with the solid defense of Steven Adams I have a difficult time seeing Karl Anthony-Towns having a big enough game to counterbalance Westbrook.
View All Today's Free NBA Picks By Clicking Here!
Oklahoma City Thunder -4.5 -110