Sport:
NBA
Agrees:
3
Disagrees:
1
Comments:
1
Agree
Disagree
Bet This Game!
View Odds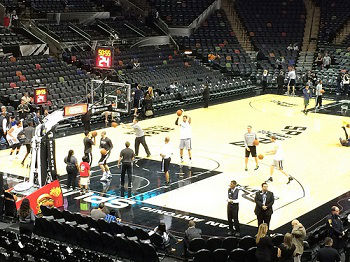 Photo: williacw-flickr
Writer: Kenneth Arthur
The Chicago Bulls, coming off a pretty bad road loss to the Charlotte Hornets, go on the road to take on the San Antonio Spurs in the third game of a very interesting Christmas Day slate.
The Bulls cannot feel too great coming into this game as they are now below the .500 mark on the season and are starting to see some of the offensive issues that many people foresaw for this roster. The Bulls, as currently constructed, simply are not going to be a very good offensive team as they are severely lacking in perimeter shooting and are relying on a very inconsistent PG to set things up on a nightly basis.
The Spurs come into this game fresh off a 20 points win over the Trail Blazers and have to be happy to head home to take on a struggling Eastern Conference opponent. Kawhi Leonard should be poised to have a big game in this one as the Bulls just gave up a big night to Charlotte's Batum. San Antonio is one of the best defensive teams in the league and there is no one on the Bulls roster that Leonard cannot lock down.
Take the Spurs to get the win and cover in this one as they are the better team by a large margin and fully capable of winning this game by double digits.
View All Today's Free NBA Picks By Clicking Here!
San Antonio Spurs -9 -110