Sport:
NBA
Agrees:
2
Disagrees:
1
Comments:
2
Agree
Disagree
Bet This Game!
View Odds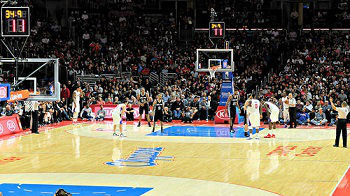 Photo: happyworldtravel-flickr
Writer: Kenneth Arthur
The Minnesota Timberwolves, coming off a competitive loss to the San Antonio Spurs, go on the road tonight to take on the LA Clippers who have been playing well lately but are dealing with being extremely shorthanded after the injury to Chris Paul.
The Clippers just cannot seem to catch a break right now as they continue to lose key pieces to injury. LA fans had to be starting to see some light at the end of the tunnel with the team playing so well and Blake Griffin about to come back from injury but now with Chris Paul out for an extended period things are not exactly looking up. The Clippers are not a very deep team and right now things are going to be stretched very thin.
The Timberwolves come into this game really not playing great, there is no shame in losing to a team like the Spurs but the game they lost to the Mavericks is one they should certainly be looking to win. Minnesota is struggling to find a defensive identity which is pretty surprising given that Thibodeau has always been a defense first type of coach.
Take the Timberwolves in this one as I just cannot see the Clippers having enough energy to keep up with the young legs that Minnesota is going to be able to run out there all night.
View All Today's Free NBA Picks By Clicking Here!
Minnesota Timberwolves -1 -110