Sport:
NBA
Agrees:
2
Disagrees:
2
Comments:
3
Agree
Disagree
Bet This Game!
View Odds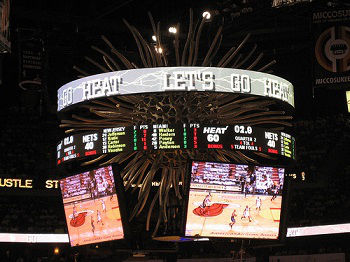 Photo: amadeus-ex-machina-flickr
Writer: Kenneth Arthur
The Golden State Warriors, coming off yet another easy win, go on the road tonight to take on the Miami Heat who are actually on a three game winning streak but have a very long way to go to get back to playoff contention.
The Miami Heat have started playing solid defense again and suddenly they are winning games as they have taken down the Rockets, Mavs, and Bucks over their last three games. As long as Miami can continue to hold opponents below the 100 point mark they are going to be in line to get quite a few wins against their counterparts in the Eastern Conference but when going against upper level opponents that are simply going to score Miami does not have the offensive punch to keep up.
The Golden State Warriors are look like they are really starting to hit their stride as they are blowing out the opposition regardless of who they are going up against and rarely have to break a sweat to do so. The Warriors offense has been exceeding its current average of 118 points per game on nearly a nightly basis and there is no sign of that slowing down anytime soon.
Take the Warriors to get the blowout win and cover as they are the better team by a large margin and even playing on back to back days are in a great spot to win by double digits.
View All Today's Free NBA Picks By Clicking Here!
Golden State Warriors -11.5 -110