Sport:
NBA
Agrees:
2
Disagrees:
1
Comments:
2
Agree
Disagree
Bet This Game!
View Odds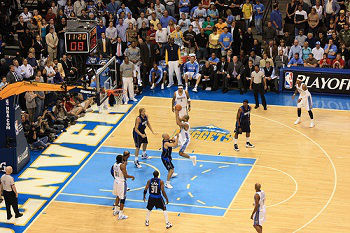 Photo: dherrera-96-flickr
Writer: Kenneth Arthur
The Phoenix Suns, coming off a tough one point loss to the Minnesota Timberwolves, go on the road to take on the Denver Nuggets who are fresh off a pretty shocking ten point win over the Utah Jazz.
The Suns are not having a very solid season right now as they are sitting at 15-30 and are heading towards a season that is going to end with a high probability of them landing a very high draft pick. Devin Booker is playing great lately and overall this team is a very capable offensive one but when you look at the fact they play no defense it is easy to see why they struggle every single night.
The Denver Nuggets come into this game playing some pretty solid ball right now and with the emergence of Nikola Jokic this season this rag tag group is right in the playoff hunt in the West. The Nuggets are a team that manages to find success despite playing no defense, as shocking as this is going to sound the Nuggets average the fourth most points per game and the second most rebounds.
Take the Nuggets to get the win and cover in this one as they are the better overall team by a large margin and definitely capable of winning this game by double digits.
View All Today's Free NBA Picks By Clicking Here!
Denver Nuggets -7 -107