Sport:
NBA
Agrees:
2
Disagrees:
1
Comments:
2
Agree
Disagree
Bet This Game!
View Odds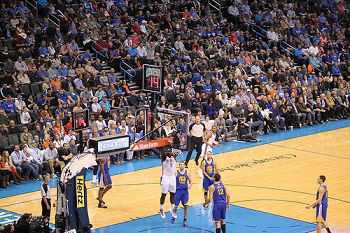 Photo: mike-knewtson-flickr
Writer: Kenneth Arthur
The Dallas Mavericks, coming off a win over the New York Knicks, go on the road tonight to take on the Oklahoma City Thunder who are fresh off a blowout win over the New Orleans Pelicans.
The Dallas Mavericks have been playing slightly better as of late and while it is great to have notched back to back wins, taking down the Knicks and the Lakers is not exactly something to hang your hat on. The Mavs offense is the worst in the league this season so far as they are averaging an abysmal 96.7 points per game and not really showing a ton of improvement lately.
The Oklahoma City Thunder come into this game sitting at 27-19 and despite Russell Westbrook having to carry the entire offensive load this team is finding a way to be pretty solid. The Thunder are achieving a significant amount of success right now even with Westbrook having a very lackluster supporting cast but there is no way you can consider them a realistic contender for anything important.
Take the Thunder to get the win and cover over the banged up Mavs in this one as they are the better team by a large margin and playing at home should have a significant edge.
View All Today's Free NBA Picks By Clicking Here!
Oklahoma City Thunder -9 -110