Sport:
NBA
Agrees:
0
Disagrees:
1
Comments:
0
Agree
Disagree
Bet This Game!
View Odds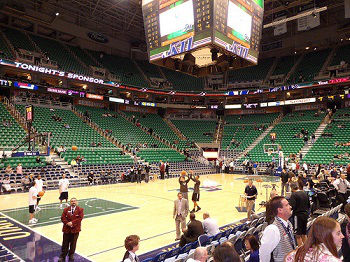 Photo: jazz-spain-flickr
Writer: Kenneth Arthur
The Los Angeles Lakers, coming off a pretty competitive loss to Blazers, go on the road to take on the Utah Jazz who are struggling a bit having lost their last two in a row.
The Lakers are pretty much a disaster right now as you don't actually know who is going to play on a nightly basis and their defense cannot stop anyone from scoring. The Lakers are surrendering 110.3 points per game and are averaging a near league low 20.6 points per game, both numbers you would like to see such a young team work on.
The Utah Jazz have been dealing with some problems lately as their last game, a lost to Denver, is not the kind of game you want to be losing if you are trying to get a top four spot in the West. Gordon Hayward has not been looking all that great lately but I am sure that he will snap out of his recent downturn in the now too distant future.
Take the Jazz to get the blowout win and cover in this one as they should win this game on defense alone against a team that is just plain terrible.
View All Today's Free NBA Picks By Clicking Here!
Utah Jazz -12.5 -113