Sport:
NBA
Agrees:
4
Disagrees:
1
Comments:
1
Agree
Disagree
Bet This Game!
View Odds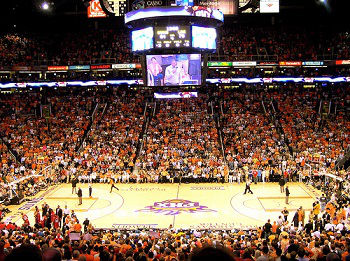 Photo: jasontho-flickr
Writer: Kenneth Arthur
The Memphis Grizzlies, coming off a solid road win over the Utah Jazz, go on the road to take on the Phoenix Suns who are pm a three game losing streak and just came up short against the Denver Nuggets two nights in a row.
The Suns are apparently incapable of playing defense as, despite Eric Bledsoe dropping 41 points, they fell at home to the Nuggets 123-112. Phoenix is a young team with plenty of development to do over this season and will be in the lottery this season so this roster is really pretty short on things to play for right now. The Suns problem is that they play no defense and that problem is not going to be changing this season or any time soon.
The Memphis Grizzlies come into this game currently 28-21 and easily in seventh place in the Western Conference. Memphis cannot seem to find their stride right now and while they are winning some impressive games they are also finding ways to lose easy ones. Memphis is playing solid defense once again this season as they only allow 99.6 points per game but that is not always enough when you only average 99.9 points per game on offense.
Take the Grizzlies to get the win and cover in this one as the Suns are pretty much a disaster right now and with Memphis trying to take advantage of weak opponents they should in a spot where they can win this one comfortably.
View All Today's Free NBA Picks By Clicking Here!
Memphis Grizzlies -3.5 -110