Sport:
NBA
Agrees:
5
Disagrees:
3
Comments:
2
Agree
Disagree
Bet This Game!
View Odds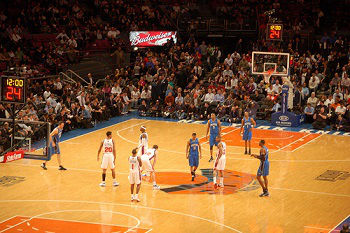 Photo: ronaldhennessy-flickr
Writer: Kenneth Arthur
The New Orleans Pelicans, coming off a third straight loss, go on the road to take on the New York Knicks who are fresh off a very disappointing showing against the Pacers.
The Knicks have really happened upon some hard times recently as they have somehow dropped seven of their last eight and now at three games below .500 are starting to look capable of missing out on the playoffs once again. The Knicks have been struggling recently due to their defense being nearly the worst in the league as they continue to give up a ton of points per night.
The New Orleans Pelicans come into this game on a three game losing streak and need to turn things around in a dramatic way very soon if they are going to want to have a shot at making the playoffs. It kind of feels like the Pelicans are wasting Anthony Davis as he is not in any sort of position to play in meaningful games despite carrying this team and keeping his numbers at an extremely elite level.
Take the Pelicans in this one as they are playing better recently than the Knicks and even with them going on the road things should be tilted in the favor of the away team.
View All Today's Free NBA Picks By Clicking Here!
New Orleans Pelicans +4 -115