Sport:
NCAAF
Agrees:
3
Disagrees:
5
Comments:
5
Agree
Disagree
Bet This Game!
View Odds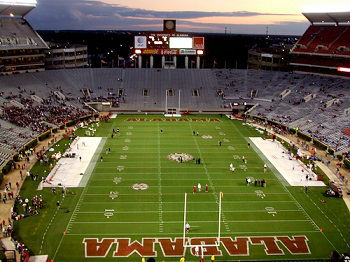 Photo: flickr
Writer: Eric Daniel
Alabama has looked like the clear cut best team in the nation throughout the regular season and the Tide are locked into the college playoff with or without a win today against the Gators. Alabama has been dominant on a weekly basis with all, but one of their wins this season coming by double digits. In their last outing Alabama closed things out with a nice 30-12 win over rival Auburn at home. With the win Bama improved to 12-0 overall and 8-0 in the SEC. Against Auburn QB Jalen Hurts was a little streaky through the air completing 27/36 passes for 286 yards and 2 TDs to 2 INTs, while the ground game added 203 yards and 1 TD on 44 carries.
The Florida Gators weren't overly impressive this season, but the Gators leaned on their strong defense quite a bit as Florida went on to win the much weaker SEC East division. Florida has had some mixed results this season, but coming through more often than not standing 8-3 overall and 6-2 in conference. Florida was outclassed in their last outing against in-state foe Florida State, losing to the Seminoles by a final of 13-31. Florida has been all about their defense this season as the Gators rank 4th in the nation in total defense compared to just 106th in scoring average. Against the Seminoles QB Austin Appleby went on to complete 19/35 passes for 149 yards, while the ground game added just 56 yards on 29 carries in the defeat.
Alabama showed consistent dominance throughout SEC play this season and there's not much of a case in siding against the Crimson in this one. Alabama has the best overall defense in the nation and they're going against a Florida squad that's looked incompetent on the offensive side of the ball this season. We like for Alabama to put up enough offense to get this win and cover in the SEC title game.
View All Today's Free NCAAF Picks By Clicking Here!
Alabama -24 -110