Sport:
NCAAF
Agrees:
3
Disagrees:
1
Comments:
3
Agree
Disagree
Bet This Game!
View Odds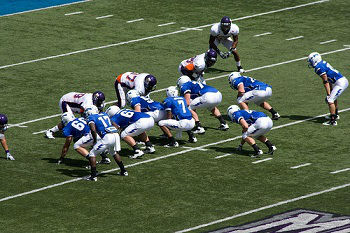 Photo: flickr
Writer: Eric Daniel
South Alabama didn't make much noise this season inside the Sun Belt going just 2-6 overall in conference, but this group played their best ball in the nonconference beating teams like Mississippi State and San Diego State on their way to going 6-6 through the regular season. Usually teams in the Sun Belt capitalize inside of conference and struggle in the nonconference, but that wasn't the case for the Jags this year. South Alabama was able to come through in their regular season finale beating New Mexico State at home by a final of 35-28 to reach their 6th win. The Jags best attribute has come with their pass defense as this group ranks 8th in the nation in passing yards allowed compared to 98th in rush defense. QB Dallas Davis was up and down throwing for 2,461 yards and 10 TDs to 11 INTs.
The Air Force Falcons had a rough patch through the month of October losing three straight, but other than that the Falcons have played solid ball this season standing 9-3 overall and the Falcons went 5-3 in the MWC. In the regular season finale Air Force upset a motivated Boise State squad at home picking up the win by a final of 27-20. The Falcons have won 5 straight and this group really brings some solid momentum coming into the postseason. Air Force ranks 3rd in the nation in rushing behind the strength of their triple option attack while their defense ranks 38th in the nation in yards allowed. QB Nate Romine has even shown to be a threat through the air throwing for 1,206 yards and 10 TDs to 4 INTs for this ground heavy group.
Not the ideal bowl matchup here for the Air Force Falcons, but Air Force tends to bring in the right kind of mindset no matter who they go up against. South Alabama actually played some of their best ball outside of conference, but their weak defense against the run this year is a concern coming into this contest. We like Air Force to come through as they go on to win and cover the spread.
View All Today's Free NCAAF Picks By Clicking Here!
Air Force -13.5 -115