Sport:
NCAAF
Agrees:
2
Disagrees:
2
Comments:
3
Agree
Disagree
Bet This Game!
View Odds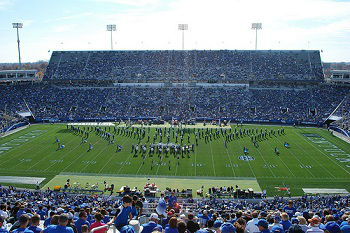 Photo: flickr
Writer: Eric Daniel
Georgia Tech quietly had themselves a bounce back campaign going 8-4 overall and 4-4 in the ACC. The Yellow Jackets gained steam towards the end of the regular season winning 5 of their last 6 games including impressive road wins against teams like Virginia Tech and Georgia. The Yellow Jackets have won in a lot of tight contests this season and this group really hasn't been all that impressive on either side of the ball ranking 82nd in the nation in offensive production and 62nd in total defense. Even this triple option attack only ranks 10th in the nation in rushing average. Georgia Tech built a lot of positive momentum heading down the stretch run and that could carry over into this bowl game for the Yellow Jackets. Georgia Tech has been led by QB Justin Thomas who's thrown for 1,454 yards and 8 TDs to 2 INTs, while also rushing for 562 yards and 5 TDs.
The Kentucky Wildcats actually came through for us against the spread quite often during the regular season and a lot of this had to do with the Wildcats being consistently undervalued by Vegas during conference play. Kentucky closed out the regular season impressively upsetting Louisville on the road by a final of 41-38. This was the best win for the year for a Kentucky group that largely fed off of the weaker teams in the SEC this season. Kentucky is another squad that doesn't stand out in any one statistical category other than their ground game which ranks 16th in the nation in production. We really liked this stable of running backs coming into the year and guys like Williams and Snell both went on to gain over 1,000 yards. Through the air QB Stephen Johnson has thrown for 1,862 yards and 12 TDs to 6 INTs.
Both of these squads tend to lean on their ground games on the offensive side of the ball, but Georgia Tech's triple option is a bit trickier to defend. Georgia Tech has also been slightly better on the defensive side of the ball and that's with playing in the ACC which has some very explosive offenses. In what should be a competitive matchup we'll side with the surging Yellow Jackets to go on to win and cover the spread.
View All Today's Free NCAAF Picks By Clicking Here!
Georgia Tech -3.5 100