Sport:
NFL
Agrees:
3
Disagrees:
1
Comments:
2
Agree
Disagree
Bet This Game!
View Odds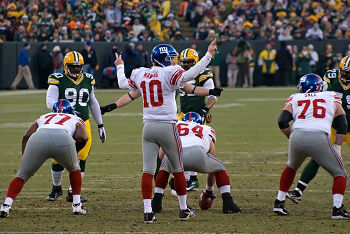 Photo: Wikimedia Commons
Writer: Kenneth Arthur
In one of the premier matchups of the week, the Dallas Cowboys take their winning streak on the road to take on the NY Giants who are looking to bounce back from a lackluster performance last week against the Steelers.
The Cowboys are a very intriguing team this season as they have found a way to successfully make a QB change in the preseason and to run their record all the way to 11-1 with a rookie QB and rookie RB leading the way. The main strength of Dallas this season, besides their running game, has been defense which is allowing a stellar 19 points per game. With four games left on their schedule it is not unlikely for this unseasoned offense to end up with a 14-2 record, a real accomplishment regardless of how this team fares in the playoffs.
The Giants come into this game sitting at 8-4 on the season and while they are not going to catch the Cowboys for the division lead they are still definitely in line for a playoff berth if the rest of the season goes well. The Giants defense actually had a very solid game against the Steelers and is in for another stern test this week going against a multifaceted Dallas offense.
Take the Cowboys to get the win and cover on the road in this one as they are the better overall team and given that this game is going to be played in very cold and inhospitable conditions it is rarely a mistake to take the team with the better defense and running game.
View All Today's Free NFL Picks By Clicking Here!
Dallas Cowboys -3.5 -105