Sport:
NFL
Agrees:
3
Disagrees:
1
Comments:
2
Agree
Disagree
Bet This Game!
View Odds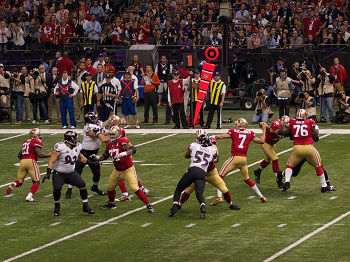 Photo: Wikimedia Commons
Writer: Kenneth Arthur
In one of the least interesting games of the day, the NY Jets go on the road to take on the San Francisco 49ers.
The Jets are coming off a blowout loss at the hands of the Colts on Monday Night Football last week and now are going to be looking to use the end of their season to evaluate Bryce Petty and see what they have moving into next season. The Jets defense has not really had a good season so far and is starting to look old and slow compared to the elite defense from a seasons past.
The 49ers come into this game looking to find a way to end their massive losing streak and for Kaepernick to get something going to make him look like an option for them heading into next season. The 49ers defense has been atrocious this season but should have at least a little confidence heading into a game against a weak offense with effectively a new QB.
Take the 49ers at home in this one in what is really a toss-up game between two of the worse teams in the league right now.
View All Today's Free NFL Picks By Clicking Here!
San Francisco 49ers -3 -110