Sport:
NFL
Agrees:
4
Disagrees:
3
Comments:
3
Agree
Disagree
Bet This Game!
View Odds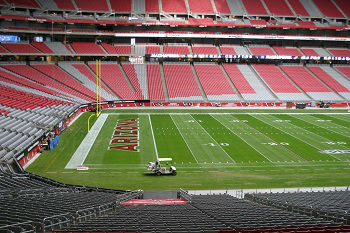 Photo: Dyanna-Hyde-Flickr
Writer: Kenneth Arthur
The New Orleans Saints, coming off back to back losses, go on the road to take on the Arizona Cardinals who are coming off a very disappointing loss to the Miami Dolphins.
The Saints come into this game having pretty much played themselves out of the playoffs and now are playing out the end of another wasted season. The Saints defense has been completely a disaster all season and just now when they are starting to play a little better the offense has completely crashed. Brees and company put up a total of 24 points over their last two games and are kind of a disaster right now.
The Arizona Cardinals came up short against the Miami Dolphins and really have to be considered one of if not the absolute most disappointing team in the league this season. The Cardinals have really not been good this season on either side of the ball as average simply won't cut it when you are trying to make the playoffs.
Take the Cardinals in this one but as neither team has much to play for you have to wonder what their motivation really is to come away with a win in this one.
View All Today's Free NFL Picks By Clicking Here!
Arizona Cardinals -3 -105