Sport:
NFL
Agrees:
4
Disagrees:
2
Comments:
2
Agree
Disagree
Bet This Game!
View Odds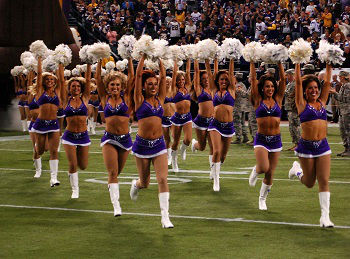 Photo: Wikimedia Commons
Writer: Kenneth Arthur
The Indianapolis Colts, coming off a tough loss to the Houston Texans, go on the road to take on the Minnesota Vikings who are fresh off a much needed win over the Jacksonville Jaguars.
The Colts are not in a good spot as far as making the playoffs is concerned as they are a game back of two different teams in their division and in no sort of position to earn a wildcard. The Colts are not a very versatile offensive team as they are extremely pass heavy and really seem to shy away from running the ball at all.
The Minnesota Vikings should be super stoked to have Adrian Peterson back and available as their running game has been horrible and their offense needs all the help it can get as they attempt to close out the season strong. The Vikings are in a decent position to make the playoffs but really look to need to win out here down the stretch to grab a wild card berth.
Take the Vikings to get the win and cover at home in this one as they are a defensive team that is going to be looking to run the ball and have a lot more to realistically play for in this matchup.
View All Today's Free NFL Picks By Clicking Here!
Minnesota Vikings -4 -108