Sport:
NFL
Agrees:
5
Disagrees:
3
Comments:
9
Agree
Disagree
Bet This Game!
View Odds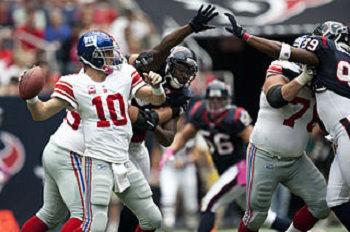 Photo: Wikimedia Commons
Writer: Kenneth Arthur
The Detroit Lions, coming off a close win at home over the Chicago Bears, go on the road to take on the NY Giants who are coming off a huge win last week over the Dallas Cowboys.
The Lions have taken advantage of a weak stretch of schedule to reel off five straight wins and put themselves easily atop the NFC North. The Lions are not a team that has really been elite in any specific categories but their defense has been stepping up and with just enough production from the offense things are heading in a great direction for this franchise.
The NY Giants, coming off a very cold win over the Dallas Cowboys, are looking at heading into another frigid showdown a week later against another team used to playing in the friendly confines of a dome. The Giants should technically be a pretty bad cold weather team as they have no running game but it would seem their comfort level playing in frigid temperatures if pretty high. The Giants defense has been the real reason behind their success this season and should be able to stymie the Lions who are not accustomed to this type of cold.
Take the Giants in this one as they have home field and weather advantage over a Lions squad that has really been making hay against a weak schedule.
View All Today's Free NFL Picks By Clicking Here!
New York Giants -4 -105