Sport:
NFL
Agrees:
2
Disagrees:
3
Comments:
3
Agree
Disagree
Bet This Game!
View Odds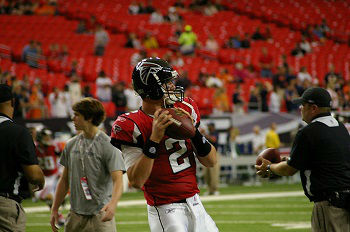 Photo: 55thstreet-Flickr
Writer: Kenneth Arthur
The Atlanta Falcons, coming off a blowout win over the Arizona Cardinals, play host to the Kansas City Chiefs who are coming off a tough overtime win over the Denver Broncos.
The Chiefs are only a single game behind the Oakland Raiders for the top spot in the AFC West and should be feeling pretty solid about their chances of making the playoffs if they can continue playing well. The Chiefs are very strong defensively, especially in their secondary, but could be in for something of a long day going up against Julio Jones and Matty Ice. Kansas City has been decent offensively and should feel pretty good on that side of the ball after putting up 30 points against Denver.
The Atlanta Falcons are finding ways to win games without much defense at all and as their season has gone on they continue winning games even while giving up 27.5 points per game. The Falcons RBs have been effective both on the ground and catching the ball out of the backfield and are going to be key in this game as they go up against a solid secondary that is probably not going to get torched.
Take the Falcons to get the win and cover at home in this one as they are playing well and really are in must win territory if they want to hold on and win their division.
View All Today's Free NFL Picks By Clicking Here!
Atlanta Falcons -5.5 -110