Sport:
NFL
Agrees:
3
Disagrees:
2
Comments:
1
Agree
Disagree
Bet This Game!
View Odds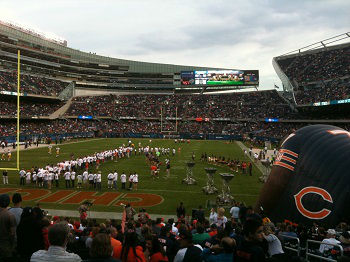 Photo: vxla-Flickr
Writer: Kenneth Arthur
The San Francisco 49ers, coming off a close loss to the Miami Dolphins, go on the road to take on the Chicago Bears who actually kept things close against the Tennessee Titans.
The Chicago Bears are going to be starting Matt Barkley and should be desperately hoping that he can continue playing so well and give them something of a hope for a QB of the future. The Bears defense has been really bad and is going to have to improve over the offseason if they want to move up towards making a playoff appearance.
The San Francisco 49ers have not had much of a season but since they moved Kaepernick into the starting role they have managed to have some semblance of an offense to balance out their complete lack of defense. San Francisco really has not reason to be trying to win games at this point in the season as they should be playing to get the best possible position in the draft. The 49ers actually kept things competitive against a very hot Miami team and could be poised to show some improvement down the stretch as they all know they are playing for their jobs.
Take the 49ers and the points in this one as I could actually see them winning this game against a Bears team that is honestly just as bad as they are.
View All Today's Free NFL Picks By Clicking Here!
San Francisco 49ers -2.5 -118