Sport:
NFL
Agrees:
4
Disagrees:
1
Comments:
11
Agree
Disagree
Bet This Game!
View Odds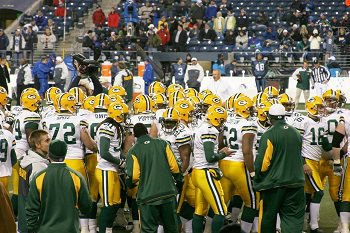 Photo: Wikimedia Commons
Writer: Kenneth Arthur
The Green Bay Packers, coming off a solid Monday Night Football win over the Philadelphia Eagles, play host to the Houston Texans who are fresh off a loss to the Chargers.
The Houston Texans need to be very happy that they play in one of the worst divisions in football as they continue to lead the AFC South despite posting a 6-5 record. The Texans have little offense but a very solid defense which is logically translating to a roughly .500 record. Brock Osweiler has been a massive disappointment for his new team and I would be very shocked if they do not end up acquiring some new options at QB in the offseason.
The Green Bay Packers are going to have to make a very hard charge here at the end of the season if they want to make the playoffs and have to be feeling good coming off a solid road win last week. The Packers are not a running team and their defense has been pretty lacking this season which puts a lot of pressure on the offense each week to put up more than solid numbers.
Take the Packers in this one as they are actually the better team and seem to have maybe figured something out last week in Philly.
View All Today's Free NFL Picks By Clicking Here!
Green Bay Packers -6.5 -105