Sport:
NFL
Agrees:
3
Disagrees:
2
Comments:
1
Agree
Disagree
Bet This Game!
View Odds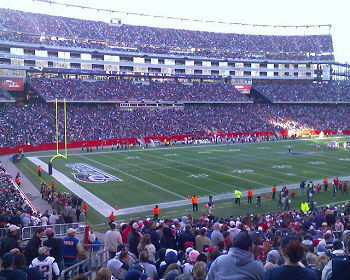 Photo: Marc-Choquette-Flickr
Writer: Kenneth Arthur
The Los Angeles Rams, coming off a blowout loss to the New Orleans Saints, go on the road to take on the New England Patriots who have been rolling right along but are going to be without Gronk for the rest of the season.
The Pats cannot be very happy or very worried about the whole Gronk situation as while it is unfortunate they don't have their star TE available for the rest of the season they have a very capable replacement in Martellus Bennett. New England has been fantastic on both sides of the ball this season with both their offense and defense ranking among the elite teams in the league.
The Rams are having a horrible season but I am sure that once again Jeff Fisher's job is safe as he has the extenuating circumstances of the Rams being involved in relocating as a franchise. The Rams defense has been their strength this season and at times has really been incredible but they are about to go up against their biggest test of the season in this one. There is no way the Patriots are going to let the Rams run the ball and I doubt they can pass the ball in this situation very well at all.
Take the Rams and the points in this one as the Pats could be a little disjointed on offense without Gronk and probably don't feel the need to blowout teams at this point in the season.
View All Today's Free NFL Picks By Clicking Here!
Los Angeles Rams +13.5 -102