Sport:
NFL
Agrees:
2
Disagrees:
2
Comments:
2
Agree
Disagree
Bet This Game!
View Odds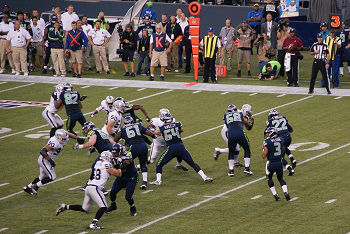 Photo: Wikimedia Commons
Writer: Kenneth Arthur
The Carolina Panthers, coming off yet another soul crushing loss, go on the road to take on the Seattle Seahawks who are fresh off really laying an egg against the Buccaneers.
The Seahawks have not had the season they originally imagined but at 7-3-1 are looking like solid locks to win the far less than competitive NFC West. Seattle is relying more than ever on their defense to win games for them and last week only managed to post five points against a Tampa Bay defense that is far from elite. Seattle clearly is missing having a RB that can consistently move the ball on the ground but even with those issues the lack of strength in their division is making for an easy road to the playoffs.
The Carolina Panthers are having a disaster of a season so far but as things have continued to go downhill they are still certainly trying to win games. Cam Newton clearly does not have many offensive weapons to move the ball around to and is attempting to do what he can with Greg Olsen and his own legs. The Panthers defense has been horrible this season and are coming off a game where they gave up a staggering 35 points to the Raiders.
Take the Panthers and the points in this one as I see them as being capable of keeping things at least competitive against the Seahawks who have no offense to speak of.
View All Today's Free NFL Picks By Clicking Here!
Carolina Panthers +7.5 -106