Sport:
NFL
Agrees:
3
Disagrees:
2
Comments:
1
Agree
Disagree
Bet This Game!
View Odds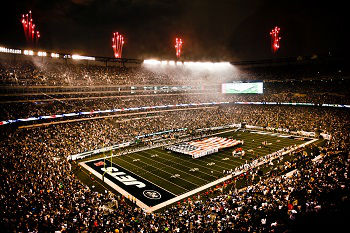 Photo: Wikimedia Commons
Writer: Kenneth Arthur
The Indianapolis Colts, coming off a shorthanded loss to the Steelers on Thanksgiving, go on the road to take on the NY Jets who are coming off a very close loss to the New England Patriots.
The Jets are 3-8 on the season and really have fallen on their faces only a single season removed from barely missing out on the playoffs despite a very good record. Fitzpatrick is not looking capable of being a franchise QB and I do not see him playing QB for the Jets next season as they seem very disenchanted with the inconsistent veteran QB.
The Colts really had no shot last week against the Steelers with Luck out but now head into the end of their season with mostly everyone healthy and a solid shot at winning the division. The Colts defense has been horrible this season as they are giving up 27.4 points per game and don't look to be improving anytime soon. The Colts basically have no running game and that is not helping the offense as it is forcing Luck and the passing game to carry the entire offensive burden on their own shoulders.
Take the Colts in this one as there is really no reason for the Jets to even be trying to win games as this point in the season and the Colts still definitely have playoff aspirations.
View All Today's Free NFL Picks By Clicking Here!
Indianapolis Colts -2 -110