Sport:
NFL
Agrees:
8
Disagrees:
1
Comments:
7
Agree
Disagree
Bet This Game!
View Odds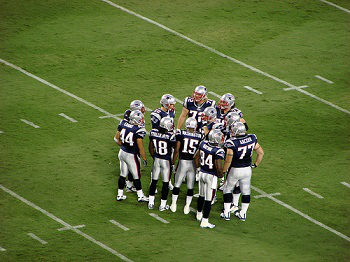 Photo: flc-flickr
Writer: Kenneth Arthur
The Houston Texans, coming off a pretty solid showing last week over the Oakland Raiders, go on the road in round two of the playoffs to take on the New England Patriots who have been sitting and waiting to see which easy playoff opponent they were going to be blessed with.
The Patriots are the favorites to win the Super Bowl right now and nothing short of an injury to Tom Brady is going to change that. New England has been obliterating their opponents over the last three weeks of the regular season and are now going to be taking on a Texans squad that really has no offense to speak of. The Patriots defense has been the best in the league this season as they allow only 15.6 points per game and I really do not see the Texans managing to put up nearly that many points in this game.
The Houston Texas should feel good that they managed to win a playoff game this season, especially given the struggles of their "franchise" QB Brock Osweiler but now things are coming to an end. The Texans have the defense needed to at least hinder Brady and company a little but there is absolutely no way that their offense is going to find ways to put up enough points to keep this thing even slightly competitive.
Take the Patriots to get the win and cover in this one as they are the better team by lightyears in this matchup and very likely to win this game by three TDs or more.
View All Today's Free NFL Picks By Clicking Here!
New England Patriots -15 -114