Sport:
NFL
Agrees:
1
Disagrees:
0
Comments:
1
Agree
Disagree
Bet This Game!
View Odds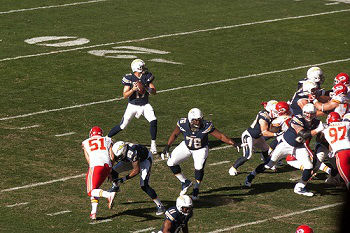 Photo: ericneitzel-flickr
Writer: Kenneth Arthur
New Orleans Saints vs Los Angeles Chargers 8/18/19 NFL Preseason Pick, Odds, and Prediction
The New Orleans Saints go on the road to take on the Los Angeles Chargers in week two of the NFL Preseason.
The Saints fell to the Vikings in week one of the preseason 25-34 but have to feel decent about what they saw from the QB corps. Bridgewater completed 14-19 passes for 134 yards and a TD as he tries to reestablish himself as a starting caliber NFL QB. The Saints running game looked very solid and Hill even chipped in 45 yards on six carries from the QB position.
Defensively the Saints allowed 34 points, a disappointing number and got destroyed both by the pass and the run.
The Los Angeles Chargers lost to the Cardinals 13-17 in week one of the preseason. Tyrod Taylor had a solid game going 6-6 for 72 yards and running the ball twice for 34 and looks like a very capable backup option for Philip Rivers. The Chargers running game basically couldn't be stopped in week one as they piled up 179 yards and two TDs on only 28 carries.
Defensively the Chargers gave up only 17 points and forced one INT. Not a terrible performance for a unit that could be very solid this season.
Take the Saints and the points in this one as Teddy Bridgewater has everything to play for as he tries to prove that he is a starting QB in this league.
View All Today's Free NFL Picks By Clicking Here!
New Orleans Saints +3 -110