Category:
MLB
Comments:
0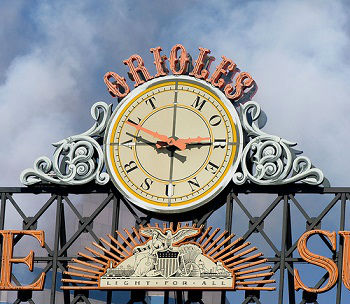 Keith-Allison-flickr
The Baltimore Orioles are now a season removed from the miraculous tin they had in 2012 where they won a shocking 93 games and advanced to the ALDS under the guidance of Buck Showalter. Last season the O's took a definite step back as they went 85-77 and ended up six games away from having a shot at playing post season baseball. This offseason has been a pretty solid one for Baltimore as they made two sizeable acquisitions in the free agent market and seem determined to put themselves back in the playoff hunt for the upcoming season.
Infield
The most important thing going on in the infield for the Baltimore Orioles is the recovery of Manny Machado from knee surgery. The ability of Machado to come back from arthroscopic knee surgery and continue his trek towards becoming a great every day third baseman. Chris Davis has had a fantastic spring training so far and looks very likely to have another very productive year with the bat as long as he can stay healthy. J.J. Hardy should be able to have another solid defensive season though his hitting will assuredly be light as usual.
Outfield
The Baltimore outfield looks like it should be loaded once again having Nick Markakis and Adam Jones out there making it tough to get a ball to drop as well as providing stellar offensive output. David Lough should be filling in both right and left field and had a very productive season last year for the Royals as he batted .286. The success of the Baltimore outfield is dependent greatly on the ability of Markakis to shake his nagging tendinitis and the continued development of Adam Jones into a superstar. This looks like an outfield with the young talent to be a real asset for this team.
Catcher
Matt Wieters' ankle seems to have healed and he is back on the field continuing his preparation for a regular season which the Orioles hope will be more productive than last season. Wieters came into the league as one of the most hyped catching prospects in recent memory and though he has been solid, especially on the defensive front, his offense has not lived up to expectations. As long as he can stay healthy Wieters has a solid chance to have a bounce back season and live up to some of the, "switch hitting Jesus Christ" expectations.
Rotation
The Orioles made their biggest free agent signing in an effort to help their rotation when they signed Ubaldo Jimenez, a young pitcher who really made his name with the Colorado Rockies but has now bounced around a little bit. It will be interesting to see if he can replicate something similar to last season as his 3.30 ERA made him a very solid starter for the Cleveland Indians. Chris Tillman was named the opening day starter for Baltimore and with a 16-7 record last season should be looking to do even better this year. Wei-Yin Chen has been having a rough time in spring training so far and while that is not always an indication of how the regular season will go it is certainly concerning.
Bullpen
There are still a lot of questions in the Orioles bullpen as there have really not been many details given out about what they are planning do with several key spots. It is going to be interesting to see who emerges to take over the closer role as Baltimore must replace Jim Johnson. Tommy Hunter entered spring training as the favorite for the role but has struggles considerable so far. Darren O'Day has logged three scoreless innings so far and could be moving up the depth chart. Ryan Webb has also been pitching relatively well and will certainly be getting some sort of role in the bullpen.
Prediction
As with any team the Orioles success this season will depend heavily on their health and the success of their rotation. The pickup of Ubaldo Jimenez could be big for Baltimore but he will likely have a much tougher time playing in the loaded AL East. The recovery of Manny Machado and Nick Markakis as well as the health of Matt Wieters' ankle will have much to do with the success of the Orioles this season.
Projected Record: 88-74
Odds to Win World Series: +4000