Category:
MLB
Comments:
0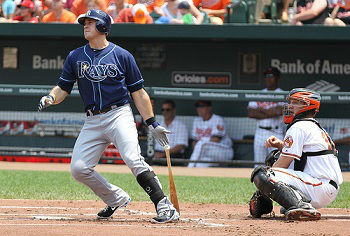 Keith Allison Flickr
Tampa Bay is really a great turnaround story. The Tampa Bay Devil Rays used to be perennial losers who could be counted on to lose massive amount of games and never really be in competition for any sort of playoff berth. The Tampa Bay Rays have now reached the playoffs in four out of the last six seasons and never had a losing record during that time. They come into this season with very high expectations coming off play in game win against the Rangers and a wild card win against the Cleveland Indians. The Rays and Joe Madden come into this season looking to once again be highly competitive in the AL East and will be a team to watch closely.
Infield
The Rays infield, this season like many past, is anchored by the premium offensive and defensive play of one of the superstars of the league Evan Longoria. Ben Zobrinst has been solid at second base and looks like he is fully recovered from his bout with neck stiffness that has bothered him this offseason. James Loney kind of brought his career back from the brink last season with the Rays and has been having a very good spring after getting a three year $21 million extension in the offseason. Yunel Wscobar has been playing well thus far into the spring and will continue to be an excellent offensive and defensive shortstop.
Outfield
The Rays outfield looks to include the likes of David DeJesus, Wil Myers, and Desmind Jennings this season and is a very interesting aspect of this team. DeJesus has been missing some time with a sore neck but has been crushing the ball in what action he has seen going 4-7 with two doubles and a triple in his three games. Wil Myers was last season's rookie of the year and though he has been having a kind of rough time this spring should be an asset for the Rays this season. Tampa Bay will be looking for Jennings to continue to improve this season and if he can continue to hit reasonably well and defend at a high level the Rays will be happy with him.
Catcher
Ryan Hanigan is expected to catch more than half of the Rays games this season but seemingly will still be sharing a lot of time with Josh Molina. Molina is a steady known backup while Hanigan, who batted .262 for the Reds last season, is expected to be something of an upgrade.
Rotation
The Tampa Bay Rays starting pitchers combined to go 65-47 last season with an ERA of 3.81last season and should be at least that good this year. As with most rotations getting full productive seasons out of the key pieces will be a key factor but with David Price and Matt Moore providing a 1-2 punch this is going to a strength for the Rays. Price has had a very good preseason so far and there is really no reason to think he won't be able to carry that over to the regular season.
Bullpen
Thankfully the Rays have moved on from the constant inconsistency of Fernando Rodney and are looking at a season of having Grant Balfour and his crazy intensity closing out games. Joel Peralta and Jake McGee provide reliable strike out set up options and there are other things to be excited about in the pen as well. The Rays have been historically quite good at relief pitcher reclamation projects so there is a good chance they will be able to get some sort of good production out of Heath Bell.
Prediction
The Rays look primed for another good season and should be able to possibly improve upon last season's success. Health is very important for them as David Price and Evan Longoria need to miss little if any time for them to reach full potential. If this team does not look like they are going to be able have a good shot at the playoffs look for Price to get traded and them to start looking towards the future. Overall the Rays look like they should be contenders this season.
Projected Record: 92-71
Odds to Win World Series: +1600