Category:
MLB
Comments:
0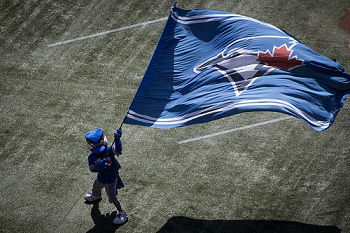 fabfotophotography-flick
The Toronto Blue Jays come into this season coming off a pretty disappointing last year and have a lot to prove coming into this year. Toronto had a rash of injuries last season to several of their key players and due in large part to that came in last in the AL East once again. When you look at the Blue Jays their roster looks like one that should be able to compete with anyone in the league if they can, for the most part, stay healthy. John Gibbons really needs to develop some team spirit and team chemistry for this bunch as they have come off as rather individualistic to me in the past.
Infield
Jose Reyes needs to be a huge contributing factor for this team if they are going to show the necessary improvement to move up in the AL East. He was one of the most dynamic players in the league a few seasons ago but has been having injury issues for the last several years it feels like but has been very productive when he has been able to play. Edwin Encarnacion has been another huge piece for this team and looks like he is primed for a big season as he is doing very well coming off writ surgery hitting .310 in spring training so far with two homeruns. Brett Lawrie looks like he should certainly be the everyday third baseman if he can stay healthy and is having a solid spring so far hitting .333 with 2 doubles.
Outfield
The Toronto Blue Jays have what could turn out to be one of the most loaded outfield units in the AL East. Jose Bautista looks fully healthy this spring and is absolutely crushing the ball putting up a line of .400/.520/1.000 with three home runs already this spring. Colby Rasmus is looking a little shaky this spring as he had to have a cortisone injection on Wednesday but is feeling better now and if he has no more setbacks should not miss any time to open the season. If the Jays are going to have a really good outfield this season Melky Cabrera is going to have to have a much better season than last where he hit only three homeruns and 30 RBIs while serving a 50 game suspension for PED use.
Catcher
Dioner Navarro is slated to be the starting catcher for the Blue Jays this season with Josh Thole backing him up. Navarro was signed to a two year deal this offseason and it will be very interesting to see how he can handle being an everyday player for the first time since 2009.
Rotation
The Rotation was an extremely weak spot for the Blue Jays last season which was a huge disappointment for the franchise as they made some additions which were supposed to immediately turn it into a strength. R.A. Dickey, after going 20-6 with the Mets the year before, managed only a 14-13 record while posting a 4.21 ERA last season and is in dire need of a bounce back year. Mark Buehrle had a pretty rough season as well going 12-10 but more importantly posting an ERA nearly a run higher than his last season with the White Sox. Really this unit as a whole needs to improve for this team to have any success and while they have the potential to show some improvement it not a given by any means that they will get better.
Bullpen
Last season the Blue Jays bullpen was actually something of a small strength as they fanked fourth in the American League in relief pitchers ERA. They really don't have anyone that could be called a realy sut down reliever but they do have some solid depth. Casey Janssen was supposed to be the definite closer this season but has been delayed this spring with some problems with shoulder soreness and could be iffy depending on how the rest of his spring goes.
Projection
The Blue Jays are, unfortunately for them, in one of the AL East. With the Red Sox, Tampa Bay Rays, New York Yankees, and Baltimore Orioles all looking like they are in good shape to be very competitive this season the Blue Jays are going to be going through a meat grinder this season. The Jays are going to have a super tough schedule this season once again and unfortunately for them they are probably going to end up finishing last in the AL East again.
Projected Record: 74-88
Odds to Win World Series: +2500