Category:
MLB
Comments:
0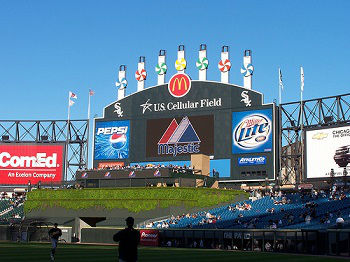 anneh632-flickr
The once mighty Chicago White Sox have fallen upon some tough times as of late going 63-99 last season just one year after just missing the AL Central title by a very narrow margin. The White Sox General Manager Rick Hahn has seemingly done a really good job of stockpiling young talent and has built up the pitching staff to a point where there can be some optimism coming into this season.
Infield
The White Sox infield looks fairly solid this season but could be looking at an issue kind of right off the bat as Jose Abreu had to leave Friday's game due to left ankle irritation and while his soreness has not gone away he has been able to play through the pain. Gordon Beckham is slated to begin baseball activities this weekend as he recovers from an oblique strain and might not be ready for opening day. Alexei Ramirez has been playing really well this preseason with five singles and a triple in 20 at-bats and though his power numbers were down last season he still has the ability to have a productive season this year.
Outfield
The White Sox outfield looks like it will be a pretty exciting unit to watch especially the speed of Adam Eaton in center field. Eaton has blistering speed and should have the proverbial green light all season on the base paths and could easily top Alexei Ramirex's 40 steal attempt from last season. Avisail Garcia could apparently be the number two hitter according to Robin Ventura and has been having a pretty good spring but at 6-4 and 240 pounds might not be the best defensive outfielder. Alejandro De Aza should round out the outfield for the White Sox and has been frankly on fire this preseason going 10-25 from the plate and is really showing great potential for the upcoming season.
Catcher
Tyler Flowers looks to see the bulk of the playing time at catcher for Chicago this season and though he has been held back due to some cramping stemming from a minor illness and the heat he seems to be fine going forward.
Rotation
The rotation is where the White Sox really have some intriguing things going on. Chris Sale has been announced as the White Sox Opening Day starter and will be looking to build off last season where he posted a very respectable 3.07 ERA. Jose Quintana has been really getting knocked around this spring training and failed to retire a batter on Tuesday as he allowed nine runs on seven hits but somehow still looks to be their number 2 or 3 starter. John Danks has had a very solid spring and just threw five scoreless innings against the Rangers. Pitching coach Don Cooper is one of the best in the business at reclamation projects and it will be interesting to see him work his magic this season.
Bullpen
The Closer role for the White Sox, and really the bullpen as a whole looks to be still somewhat undecided as they are going to be working through several different options. Nate Jones looks likely to get the first crack at the ninth inning with Matt Lindstrom and Scott Downs, among others, being used as set up men. It will be interesting to see if Mitchell Boggs can recapture any of his electric stuff from his days in St. Louis.
Projection
The White Sox honestly are not looking very good this season but they seem to be on the right track as far as the rebuilding process goes. Bringing in Eaton should be a great move and getting cheap pitching to go with a young and developing core will allow them to survive somewhat as they move forward. Unfortunately for the Sox the Tigers, Indians, and Royals all figure to contend for postseason berths leaving the White Sox in the dust
Projected Record: 64-98
Odds to Win World Series: +5000