Category:
MLB
Comments:
0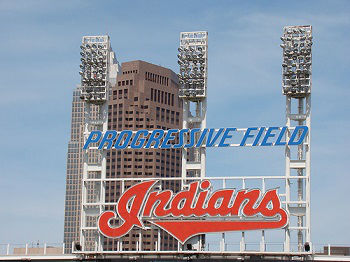 PositivelyCleveland-flickr
The Cleveland Indians are coming off a 2012 where they had a historically bad stretch and missed the playoffs and a 2013 where they erased most if not all of those bad memories by making a late season surge in September to finish 92-70 and make their way into the wild-card game. This is a team with excellent leadership with Terry Francona holding the reins as manager and veteran players such as Nick Swisher and Michael Bourn to help change the culture a little bit. Losing in the wild-card game has to be a horrible experience so look for the Indians to really try and make a run at the AL Central crown in order to avoid it this season.
Infield
Nick Swisher is coming off a mediocre season at first base in his first year with the Indians where he only batted .246 which is down from his last three years. Jason Kipnis figures to see the majority of the playing time at second base this season and is having a pretty solid spring as he batted .333 with an OBP of .412 in six games. Asdrubal Cabrera has been a fixture at short stop for the Indiana and though he is coming off a rather tough season at the plate should be good to go this season. Cleveland wanted to attempt to move Carlos Santana to third from catcher but it looks like they will be going with Lonnie Chisenhall who has had a pretty solid spring and is much better defensively.
Outfield
Michael Bourn will be the anchor of this outfield as he plays above average defense in one of the more important positions on the field and should be more than recovered from his hamstring issue by the beginning of the season. Michael Brantley looks to be the starting left fielder and has had an uneventful but solid spring. David Murphy will be patrolling right field for the Indians and has been limited by some shoulder issues but it should not be an issue by the time opening day rolls around.
Catcher
The Indians have an interesting situation as far as catchers are concerned with Carlos Santana and Yan Gomes both expected to see considerable playing time behind the plate. Santana has been trying to transition somewhat to third base but both of them are solid catching options.
Rotation
The departure of Ubaldo Jimenez and Scott Kazmir could negatively impact this rotation quite a bit but they have plenty of other options. Justin Masterson is the ace of this team and has had a decent spring and looks to be ready for opening day. Corey Kluber has had a really good spring and looks to be their number two or three starter coming off a good year. Zach McAllister has been tabbed as the number three starter and coming off a very good season where he posted a 3.75 ERA looks like a solid contributor. Danny Salazar and Carlos Carrasco should round out this rotation and have both done well leading up to this season.
Bullpen
John Axford is slotted to be the closer for the Indians this season. He posted solid numbers for the Cardinals but ended up there after having a really rough season for the Brewers in 2012 and it will be interesting to see how things go this time around. This bullpen a whole was in the middle of the pack last season but should have at least lost a little drama with Chris Perez leaving and taking his personal baggage with him. Marc Rzepczynski looks to be a solid lefty specialist and as long as Axford can be solid the path to him looks like it should be smooth.
Prediction
The Cleveland Indians are a solid ballclub under the management of Terry Francona and can be expected to hang around the race in the AL Central until the end. Their pitching is solid in both the rotation and bullpen although they do have some young guys that will need to produce well in order for this team to reach its full potential. Overall this team is good enough, if everyone performs well, to win an AL Central title.
Projected Record: 93-69
Odds to Win World Series: +5000