Category:
MLB
Comments:
0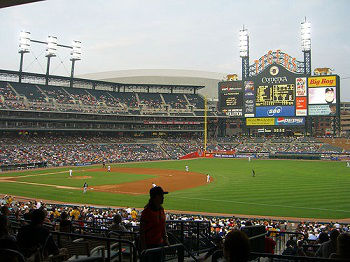 david%40unt-flickr
The Detroit Tigers were one of the best teams in the game last season but suffered yet another post season disappointment as they fell to the Red Sox in six games in the ALCS. This season is certainly going to be a different one with Jim Leyland retiring and being replaced by rookie manager Brad Ausmus. It is always kind of a risk to bring in a new manager but Ausmus has a good track record as a veteran player and leader and seems well suited from the role. Losing Prince Fielder and Doug Fister is not going to help but the expectations for this team have not changed since last season.
Infield
The Detroit Tigers have one of the best hitters in the game manning first base for them in Miguel Cabrera and as he is healthy and ready to go for the season. One of the big offseason acquisitions for the Tigers was Ian Kinsler who, after a messy departure from the Texas Rangers, should be looking to have a really productive year in a new environment with some new influences. Nick Castellanos figures to share time with Cabrera at third base this season and has been one of the best hitters for the Tigers this spring. Jose Iglesias looks to be the starting short stop and is more of the defensive specialist type but batted .303 last season and figures to be a key piece on this team.
Outfield
Torii hunter headlines the Detroit outfield lineup as he will be depended on to the Tigers every day option in right field even at his advanced age. Austin Jackson is slated to be the centerfielder and there are rumblings that new manager Brad Ausmus wants him to make greater use of his speed on the bases this season. Rajai Davis figures to be the patrolling left and though he has missed sometime this spring with a hamstring injury seems likely to be more than ok for opening day.
Catcher
Alex Avila figures to see the majority of starts behind the plate this season but has been held back a little this spring due to back soreness. He has batted .267/.389/.333 this spring but with only 15 at bats that number is pretty fluid still.
Rotation
Losing Doug Fister would be a big blow to any rotation but for the Tigers it is much less of an issue given the incredible talent they have at the top. Justin Verlander is healthy and will be looking to have something of a bounce back season as he did not live up to his incredibly lofty standards during parts of last season. Max Scherzer was of course out of this world last season and should will give the Tigers a nearly unbeatable one, two punch in any series. Anibal Sanchez has had a little shoulder trouble this spring but seems to be healthy now and is expected to make his next start which will have him nearly ready for the beginning of the season. Rick Porcello is expected to have a breakout season this year and has been doing moderately well this spring.
Bullpen
The Detroit Tigers found themselves in serious need of a closer this offseason so they went out and got pretty much the best one available on the open market when they signed Joe Nathan. This signing has brought about some concern this preseason however as Nathan's fastball has been hovering in the high 80s this spring but he fully expects it to be back up by the start of the regular season. One big blow for this pen has been the loss of Bruce Randon for the season to Tommy John surgery which will now leave the job of setting up Nathan to the likes of Al Alburquerque or Joba Chamberlain. Joba has been having a rough spring but he Tigers really hope he can have a solid season.
Prediction
The Tigers seem like they have taken something of a step backwards this offseason as losing a solid hitter like fielder and a near top of the rotation pitcher like Fister is never going to make you better. At the core this is a very strong team with proven offensive talent in Cabrera, Hunter, and Martinez and a pitching staff that would make nearly any other club jealous. The Tigers still look like the best team in the AL Central on paper and can definitely have the expectation of wining the crown once again.
Projected Record: 92-70
Odds to Win World Series: +800