Category:
MLB
Comments:
0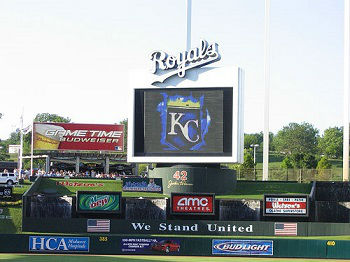 brian-e-ford-flickr
The Kansas City Royals have had a long struggle to rebuild a once proud franchise and it looks like, after a pretty solid season, the future could finally be now. The Royals had their best winning percentage since 1994 and thanks to careful planning and player development seem poised to make a momentous leap into the future. The Royals did miss the playoffs last season but the real big news is that they were in contention down to the last couple weeks of the season. This Kansas City team is young and going to continue to have some growing pains but is in a position to finally end some of the futility that has plagued them for so long.
Infield
The Royals made a possibly big addition when they added Omar Infante to take over things at second base but are looking at a big possible issue as he has a bone spur that is hindering his ability to swing the bat. That situation is going to be a very important one to monitor for this team going forward. Eric Hosmer is expected to take a step forward this season and really carry the majority of the offensive load. The good news is that he is batting .303 this spring with six extra-base hits and looks to be in good health. Mike Moustakas has been killing the ball this preseason and really looks to be a huge weapon for the Royals this season both with the bad and the glove. Alcides Escobar has been dealing with some shoulder issues this spring but seems to be making his way back and should be ready for opening day.
Outfield
Alex Gordon has been having a so-so spring training so far and looks likely to end up in the five hole this season rather than the leadoff spot he occupied last season. Lorenzo Cain is coming off a decent season where he batted .251 but needs to raise that average and on base percentage to give this team more help offensively. Norichika Aoki was one of the Royals biggest additions this offseason and looks to be their everyday right fielder as well as batting leadoff. If he can replicate the numbers he put up his last two seasons he will be a big help to the Royals who were offensively limited last season.
Catcher
Salvador Perez has had a little trouble this spring since getting hit with a foul ball on the hand but luckily only had a bruise that shouldn't limit him going forward. In 138 games last season Perez hit .292 and really helped this team both at the plate and behind it and will be a big asset for them this year.
Rotation
Last season the Kansas City Royals had the 5th best rotation ERA in the American League. Jason Vargas replaces Ervin Santana this season but they have lots of young pitching talent with huge upside. First of all James Shields should be in his prime still and while he hasn't had resounding success so far this spring seems to be rounding into form and will be ready for opening day. Jason Vargas has been having a very good spring and seems ready to step into this rotation and produce right away. If Bruce Chen and the young pitchers at the bottom of the rotation can be productive and the guys at the top the rotation can replicate last season's success this part of the Royals seems ready for a playoff run.
Bullpen
As crazy as this sounds to say, the Royals had the best bullpen ERA in the American League by a very wide margin. Kansas City fans should be excited that nearly the entire group is back but the crushingly bad news is that Luke Hochevar will be missing the entire season due to Tommy John surgery. This is still a very deep bullpen and should still be pretty much able to handle the loss of Hochevar even though it is wildly inconvenient. Greg Holland has been having a pretty rough spring but should be fine by the time the regular season rolls around as he had similar numbers during last spring before delivering premium numbers over the course of the season.
Prediction
This sounds crazy when you say it out loud but this looks likely to be the season where the Kansas City Royals finally get back into the playoffs. They will have to have some players really take some big steps if they want to have a shot at winning the AL Central outright but one of the Wildcard spots looks like a definite possibility especially given how close they were for most of the final month down the stretch last season. Health and further development of young talent is going to be big for them but they definitely have a chance.
Projected Record: 91-71
Odds to Win World Series: +5000