Category:
MLB
Comments:
0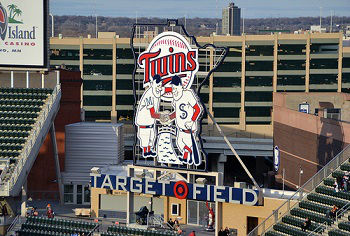 jpellgen-flickr
The Minnesota Twins, since winning the AL Central title in 2010, have really been far below the lofty standards their lavish contract to Joe Mauer and gorgeous new stadium set for this franchise. The Twins look intent on turning around their downward trend this season as they spend lavishly on free agents this offseason to the tune of nearly $90 million. The issue facing the Twins this season could be more the quality of their opposition than their own quality as they are in a division that had three winning teams two of which made the playoffs.
Infield
The Twins infield starts with Joe Mauer at first base as he has been a cornerstone of this franchise for his entire career and now, in an effort to keep his offensive production up, he has made the switch to primarily playing first. Brian Dozier seems to have recovered well from his early hip issue and looks like he has the pop to give the second spot in the order some pop. Pedro Florimon figures to be the Twins starting short stop despite having missed a large portion of the spring due to an appendectomy and is kind of behind as far as number of plate appearances goes. Trevor Plouffe has had a slow start this spring at third base but is assured of the starting job with Miguel Sano out for the season due to Tommy John surgery.
Outfield
Josh Willingham looks to be the starting left fielder but is off to a painfully slow start to the spring as he is hitting just .080 in 25 at bats this preseason but is apparently healthy after coming back from knee surgery in the offseason. Aaron Hicks looks to have become the front runner for the starting job in centerfield as he has hit an excellent .371 going 13-35 at the plate this spring and is an excellent young piece for this team. Oswaldo Arcia has had a really rough spring training since due more to a bout with food poisoning than anything else but should be ready to go for opening day.
Catcher
Kurt Suzuki and Josmil Pinto will be looking to split time behind the plate this season as they look to make up for Joe Mauer's move to first base. Suzuki looks like a possibility to hit in the second spot but will have to perform well to keep the bulk of playing time as Pinto has significantly more offensive upside.
Rotation
Last season the Twins had the worst rotation in the American League but look to have made some moves to address some of those problems. Ricky Nolasco has been named the Twins opening day starter and has looked really sharp this spring allowing only two runs over the course of two outings. Kevin Correia seems to have overcome his neck issue and looks more than ready to step into the number two spot in this rotation. Phil Hughes is hoping that a change of scenery and a more hitter friendly ball park will do him good and with a solid spring under his belt, expectations are high for him once more. Mike Pelfrey looks to be the number four starter for the Twins and can hopefully have a slightly stronger season in his second season back from Tommy John surgery.
Bullpen
Glen Perkins holds down the closer role for the Twins and is coming off an All-Star level season where he converted 36 of 40 save opportunities while posting a career low 2.30 ERA. Jared Burton and Samuel Deduno figure to be the setup men with Deduno a possibility to move into the rotation depending on how the season goes. Jared Burton has had something of a tough spring but seems to be healthy and can be depended upon to round into form when the regular season rolls around. Honestly being average in the AL looks like the best possibility for this unit as a whole.
Prediction
The Twins simply do not look good this season. They did a positive thing in remaking most of their rotation and that part of their team could be significantly better but they are facing some other major issues. The offense leaves much to be desired and is very doubtful to improve much at all this season. The Twins defense was the worst in the AL last season and that area is very doubtful to show improvement as well. This team definitely looks like the fourth or fifth best team in the AL Central.
Projected Record: 66-96
Odds to Win World Series: +12500