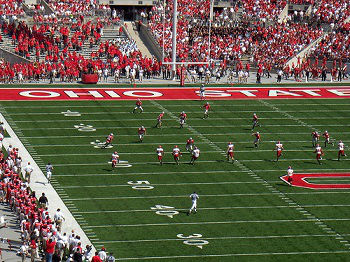 icawise flickr
East Division

1. Ohio State

2013: 12-2 (8-0)

2013 Offense/Defense FBS Rankings: Offense: 3rd Defense: 28th
Returning Starters: Offense: 5 Defense: 7

The Buckeyes went through the Big Ten regular season unscathed in 2013, but they closed on a 2 game losing streak falling to Michigan State in the Big Ten title game and to Clemson in the Orange Bowl. QB Braxton Miller returns for his senior season and he is hoping to put the failures of the end of last season behind him. Miller still has a lot to improve on, but with a full season under center Braxton should be a potential Heisman contender. It could take some time for the offense to jell with only 1 O-lineman returning and RB Carlos Hyde going to the NFL. The defense should be great as they boast the best D-line in the Big Ten.

2. Michigan

2013: 7-6 (3-5)

2013 Offense/Defense FBS Rankings: Offense: 47th Defense: 67th
Returning Starters: Offense: 7 Defense: 8

The Wolverines were inconsistent last season and their weak O-line really hurt them when they went against higher tier Big Ten defenses. The O-line was the main factor in Michigan very poor run game and QB Devin Gardner wasn't afforded enough time to throw out of the pocket for most of the season. At least Gardner can use his athleticism to buy some time or even create through scrambling and I think that gives him a serious edge over younger QBs on the roster Shane Morris and Wilton Speight. Michigan returns their three interior linemen and experience mixed in with high level recruits at least gives this squad hope. The defense returns 8 starters and the addition of freshman Jabrill Peppers could make this unit one of the best in the Big Ten.

3. Michigan State

2013: 13-1 (8-0)

2013 Offense/Defense FBS Rankings: Offense: 65th Defense: 3rd
Returning Starters: Offense: 7 Defense: 4

I greatly respect what Michigan State has done as a program under Mike D'antoni during his tenure as head coach. The defense carried this squad at times through 2013, but the defensive unit has to replace 7 starters, so a slight drop off in the standings is a definite possibility. We'll get a great sneak peak at where the defense is at when Michigan State goes on the road to face Oregon in week two. The offense has to do more and with QB Connor Cook and RB Jeremy Langford returning the offense will be much more prepared coming out of the gates. With Michigan and Ohio State coming to East Lansing the Spartans could capitalize on their favorable schedule and finish first in the Big Ten East, but we still need to see how the Spartans are going to replace a bevy of top defensive talent.

4. Indiana

2013: 5-7 (3-5)

2013 Offense/Defense FBS Rankings: Offense: 17th Defense: 117th
Returning Starters: Offense: 8 Defense: 10

The Hoosiers are certainly a sleeper team in the Big Ten as they return 18 starters, including 10 on defense which could key a vital increase in the level of play on that side of the ball. Offense has never really been an issue in Indiana over recent seasons and with QBs Nate Sudfeld and Tre Roberson returning look for big offensive numbers again out of the Hoosiers. The defense was full of underclassmen in 2013, but experience along with better cohesion should mean improvement for Indiana on defense.

5. Penn State

2013: 7-5 (4-4)

2013 Offense/Defense FBS Rankings: Offense: 70th Defense: 59th
Returning Starters: Offense: 7 Defense: 8

Sanctions still loom large over the head of the Penn State football program and it won't be easy for the Nittany Lions to make a move up the standings in the tough Big Ten East division. New head coach James Franklin has a known commodity under center with QB Christian Hackenberg, but the loss of security blanket WR Allen Robinson will make things a little tougher for the sophomore. A good amount of starters return on both offense and defense, but with sanctions come depth issues. Just look at USC over recent seasons as they have had top end talent with little depth and they have been a shell of their former selves as a result.

6. Maryland

2013: 7-6 (3-5)

2013 Offense/Defense FBS Rankings: Offense: 85th Defense: 55th
Returning Starters: Offense: 8 Defense: 9

The Terps join the tough Big Ten East in their first season with the conference and it could be many years before we see this program make any kind of run at the divisional title in football. The good news for Randy Edsall is his squad returns 17 starters and after the QB depth being depleted due to injuries in 2013, there will be healthy depth making the QB position more an area of strength as opposed to a liability. The defense was average in 2013, but this unit is expected to take a step forward. It will be interesting to see how the Maryland front handles the ground and pound approach of a lot of Big Ten teams.

7. Rutgers

2013: 6-7 (3-5)

2013 Offense/Defense FBS Rankings: Offense: 78th Defense: 81st
Returning Starters: Offense: 9 Defense: 7

Rutgers makes a major step up in conference affiliation with their move to the Big Ten, but it is also likely to hurt their ability to stay highly competitive at least in the short run. Being in the Big Ten makes Rutgers a more attractive destination on the recruiting trail, but it could be a few years before those gains start to pay dividends. The schedule doesn't do Rutgers any favors as they play in the tough Big Ten East and they have crossovers contests against Nebraska and Wisconsin. The bright spot is a ton of starters return on both sides of the ball including QB Gary Nova who showed some signs of good play last season.

West Division

1. Wisconsin

2013: 9-4 (6-2)

2013 Offense/Defense FBS Rankings: Offense: 28th Defense: 6th
Returning Starters: Offense: 6 Defense: 3

The Wisconsin Badgers were one of the most consistent teams covering the spread in 2013 and this is because they paired a dominant run game with a lock down defensive unit. Wisconsin will be built around the run again this season with RB Melvin Gordon returning along with 4 O-linemen. QB Joel Stave also returns, but he is in danger of losing his job to Tanner McEvoy who is head coach Gary Anderson's guy. The Badgers have a lot of holes to fill on the defensive side of the ball, but this unit will be helped by an offense that will do an excellent job of controlling the clock.

2. Iowa

2013: 8-5 (5-3)

2013 Offense/Defense FBS Rankings: Offense: 81st Defense: 9th
Returning Starters: Offense: 8 Defense: 5

The Iowa Hawkeyes were a pleasant surprise last season going 8-5 and nearly taking down LSU in the Outback Bowl. The Hawkeyes look to benefit from playing in the weaker Big Ten West division as they should be a contender for the divisional crown. Iowa returns starting QB Jake Rudock, RB Mark Weisman, and a number of other important pieces on the offensive side of the ball. The offense should improve as a group and that will help this defense which has to replace their starting line backing corps. Besides the line backers a good portion of Iowa's top ten defense returns.

3. Nebraska

2013: 9-4 (5-3)

2013 Offense/Defense FBS Rankings: Offense: 49th Defense: 50th
Returning Starters: Offense: 5 Defense: 6

Nebraska is the last of three teams I think could realistically win the Big Ten West. The Cornhuskers finished their 2013 season with a surprise bowl victory against Georgia and that certainly built some momentum for this program going into the offseason. Arguably the best running back in the Big Ten returns for Nebraska with Ameer Abdullah declining his option to go to the NFL. QB was a position of uncertainty for Nebraska last season and it is still a question mark. Tommy Armstrong Jr. is the leading candidate to take the job, but Johnny Stanton and even Jamal Turner could see time under center early in the season. Nebraska's front seven looks solid, but there are legitimate question marks in the secondary.

4. Illinois

2013: 4-8 (1-7)

2013 Offense/Defense FBS Rankings: Offense: 62nd Defense: 106th
Returning Starters: Offense: 6 Defense: 10

Illinois is my sleeper team in the Big Ten West and they could be a surprise team to finish near the top of the standings of the West division. Last season started with promise after Illinois crushed a decent Cincinnati squad 45-17, but hope turned into despair in conference play. Even with QB Nathan Scheelhaase moving on I think the QB position will be better in 2014 under Oklahoma State transfer Wes Lunt. The Illini defense was a major issue last season, but with 10 returning starters there is considerable hope for a turnaround.

5. Minnesota

2013: 8-5 (4-4)

2013 Offense/Defense FBS Rankings: Offense: 86th Defense: 25th
Returning Starters: Offense: 7 Defense: 7

Minnesota's opening game against Eastern Illinois should give us a great insight into how prepared this squad is for the 2014 season. Minnesota has struggled in recent early season contests against FCS opponents and Eastern Illinois was one of the top FCS schools in the country last year. At least Minnesota won't have to deal with QB Jimmy Garoppolo who was drafted this past offseason out of Eastern Illinois. Minnesota's former starting QB Philip Nelson transferred so it looks like it could be Mitch Leidner who takes the starting gig. The Gophers are likely to continue to lean on their run game with RB David Cobb running behind 4 returning O-linemen. The defense was top 25 in the nation last season, but Minnesota has to replace 3 key contributors from that unit.

6. Northwestern

2013: 5-7 (1-7)

2013 Offense/Defense FBS Rankings: Offense: 84th Defense: 69th
Returning Starters: Offense: 9 Defense: 8

This feels too low a ranking for Northwestern, but I find myself somewhat swayed by the Wildcats' extremely disappointing 2013 campaign where they went 1-7 in conference play. The Wildcats return 17 starters which is a resounding positive, but I also think the unionization case could be a distraction for Northwestern during the season. The offense returns all 5 O-linemen along with QB Trevor Siemian and RB Venric Mark so this unit should be able to rank higher than 84th in scoring average. The defense was a liability in conference play for Northwestern in 2013, but with 8 returning starters there is reason for optimism.

7. Purdue

2013: 1-11 (0-8)

2013 Offense/Defense FBS Rankings: Offense: 122nd Defense: 114th
Returning Starters: Offense: 8 Defense: 5

I'm not sure even Drew Brees could turn this group of Boilermakers into winners. Purdue is coming off a 1-11 season where their only win came in a 20-14 result at home against FCS Indiana State. I actually liked what I saw at times out of QB Danny Etling last season, but if he doesn't turn out to be the long term solution there are also Austin Appleby and David Blough who have potential. Purdue allowed 38 points per game in 2013, which was 114th worst in the country, and it is obvious this number needs to be improved upon. The offense is likely to show significant improvement this season, but the defense is likely to continue their struggles as they have to replace 6 starters including a number of key contributors.