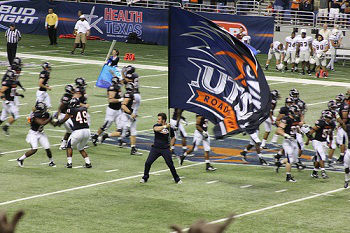 scooter simpson flickr
East Division

1. Marshall

2013: 10-4 (7-1)

2013 Offense/Defense FBS Rankings: Offense: 8th Defense: 32nd
Returning Starters: Offense: 6 Defense: 7

The Thundering Herd are head and shoulders above everyone else in CUSA and this squad has a legitimate chance at going through the regular season undefeated. Star QB Rakeem Cato returns and he will have an outside chance at winning the Heisman trophy if he continues putting up the numbers he has produced during his very successful career. Last season Cato threw for 3,916 yards with a 39-9 TD-INT ratio. Marshall's defense returns 7 starters to what was the most improved defense in the nation in 2013, but they have to replace three guys on their D-line. Marshall does return their top three tacklers who are all linebackers. This could turn out to be a special and memorable season for the Thundering Herd.

2. Western Kentucky

2013: 8-4 (4-3, Sun Belt)

2013 Offense/Defense FBS Rankings: Offense: 54th Defense: 44th
Returning Starters: Offense: 8 Defense: 3

The Hilltoppers were spurned by Bobby Petrino as their short lived head coach decided to jump ship and go back to Louisville. Nobody could have guessed Petrino would be back at a higher tier University this shortly after the Arkansas and Atlanta incidents, but winning has a way of making us forget. At least Western Kentucky was left with one of Petrino's guys with Jeff Brohm being named the new head coach of the Hilltoppers. Even with losing Antonio Andrews to the NFL the future is still very bright for this Western Kentucky offense which returns 8 starters. QB Brandon Doughty showed flashes of promise, but he has to do a better job limiting his turnovers. Expect the offense to be dangerous through the air with McNeal and Dangerfield both being serious threats in the pass game.

3. FAU

2013: 6-6 (4-4)

2013 Offense/Defense FBS Rankings: Offense: 79th Defense: 26th
Returning Starters: Offense: 5 Defense: 5

The Owl's closed on a 4 game winning streak to end the 2013 regular season, but three of the contests were at home and FAU was going against some of the weaker teams in the league. This is still a positive sign though for a program that looks to continue their upward trend and finish even higher in 2014. FAU has a QB competition between two guys that saw considerable time on the field in 2013. I would side with the veteran QB Jaquez Johnson who was the CUSA Newcomer of the Year and he is a proven dual threat who led the team in passing and rushing a season ago. This 26th ranked defense returns just 5 starters, but at least FAU returns most of their top talented players on this side of the ball.

4. MTSU

2013: 8-5 (6-2)

2013 Offense/Defense FBS Rankings: Offense: 69th Defense: 60th
Returning Starters: Offense: 4 Defense: 7

The Blue Raiders flew under the radar in 2013, but this team finished strong winning their last 5 regular season games including an exciting 51-49 win over Marshall. The offense returns just 4 starters which is a concern, but there are legitimate reasons for this unit to be optimistic coming into the season. QB Logan Kilgore is gone, but the next guy up is going to be a dual threat as the Blue Raiders move towards a zone-read offense. MTSU is also loaded at the RB position and they arguably have the best stable of backs in the conference. The interior line is in rebuild mode and that is the biggest cause for concern on offense. Defense was up and down a season ago and it's unlikely this unit will improve enough to pose a serious threat to some of the better offenses in CUSA.

5. Old Dominion

2013: 8-4 (0-0, Independent)

2013 Offense/Defense FBS Rankings: Offense: 7th Defense: 103rd
Returning Starters: Offense: 8 Defense: 9

The Monarchs faced an easy 2013 schedule as they made the transition as a program into the FBS. ODU capitalized with blowout wins over teams like Howard, Albany, Campbell, and Rhode Island, but they were also scorched when going against higher tier programs like Maryland and North Carolina. ODU will face a more balanced schedule this season in CUSA and I'm looking forward to seeing how they fair against a less topsy-turvy calendar of games. QB Taylor Heinicke is a proven commodity at the FCS level and he fared well last season completing 70 percent of his passes throwing for 4,022 yards with 33 TDs to 8 INTs. It was clear defense was the weak point for ODU last season, but with the experience gained from 9 returning starters this unit hopes to be improved.

6. UAB

2013: 2-10 (1-7)

2013 Offense/Defense FBS Rankings: Offense: 83rd Defense: 122nd
Returning Starters: Offense: 6 Defense: 8

The Blazers didn't do much well last season and they will look to find an identity in 2014. The offense is set at WR with a number of guys who can create in the pass game, but the Blazers still need to settle on a QB that can lead this group to success. JUCO transfer QB Cody Clements has the edge to win the starting job, but Jeremiah Briscoe could challenge for playing time. Head coach Bill Clark is a defensive guy and he will hope to turn things around on this side of the ball quickly. The defense is loaded in the secondary, but there are question marks up front.

7. FIU

2013: 1-11 (1-7)

2013 Offense/Defense FBS Rankings: Offense: 125th Defense: 113th
Returning Starters: Offense: 11 Defense: 7

The Golden Panthers were arguably the worst team in college football a season ago as they ranked near the bottom of the FBS in many major statistical categories including averaging just 9.8 points per game while giving up 37. The defense was put up against the wall time and again after the offense was nearly incapable of stringing any kind of successful drive together. The offense returns all 11 starters, but that might not be a good thing from a unit that was ranked 119th in passing and 123rd in rushing. The defense has concerns in the middle of the line and at line backer, but the secondary and ends are positions of strength. There isn't likely to be much progression for this team despite returning 18 starters.

West Division

1. UTSA

2013: 7-5 (6-2)

2013 Offense/Defense FBS Rankings: Offense: 87th Defense: 62nd
Returning Starters: Offense: 9 Defense: 10

Head coach Larry Coker has done a superb job making UTSA's transition into the FBS successful and he has succeeded through recruiting the fertile grounds of Texas. The Roadrunners closed last season on a 5 game winning streak including impressive results against Tulsa, North Texas, and Tulane. UTSA returns the most starting players in the country with 19 of their 22 starters from 2013 coming back, but that doesn't include the ever important QB position. The Roadrunners are loaded at the skill positions of RB and WR and that will greatly help the transition for new senior starting QB Tucker Carter, along with the entire O-line returning. The defense returns 10 starters to a unit that allowed just 15 points or less in each of their last four contests last season.

2. North Texas

2013: 9-4 (6-2)

2013 Offense/Defense FBS Rankings: Offense: 50th Defense: 8th
Returning Starters: Offense: 5 Defense: 4

North Texas is another CUSA team that has had a solid transition from the FCS to FBS over recent seasons. 2013 was a banner year for the Mean Green as they went 9-4, which included a 36-14 bowl win over UNLV. North Texas does return just 9 starters and that is a major reason why I give the nod to UTSA as the preseason West division favorites. North Texas returns 4 starters to a great O-line and the coaches are hoping the front can make up for the retooling at the skill positions on offense. North Texas had arguably the best defense in the conference last season, but they return just 4 starters including only one of their front seven. The secondary is set with three returning starters, but the front is also in rebuild mode.

3. Rice

2013: 10-4 (7-1)

2013 Offense/Defense FBS Rankings: Offense: 63rd Defense: 42nd
Returning Starters: Offense: 6 Defense: 6

The Owls came on the scene strong in 2013 as they parlayed a veteran roster into a CUSA championship with their 41-24 win the conference title game over Marshall. Rice's schedule doesn't do them any favors in 2014 as they open on the road against Notre Dame and Texas A&M, but at least we'll get a good idea of where this team is at early in the season. The offense has to replace former starting QB Taylor McHargue and RB Charles Ross, but I think this unit has a higher ceiling with their replacements. Junior QB Driphus Jackson is a dangerous threat in the run game and he adds a valuable dimension to the offense. Rice's defense wasn't great in 2013, but there are indications that there could be improvement. The front seven looks solid, but the loss of Phillip Gaines in the secondary hurts.

4. Southern Miss

2013: 1-11 (1-7)

2013 Offense/Defense FBS Rankings: Offense: 120th Defense: 120th
Returning Starters: Offense: 8 Defense: 7

Futility continued for Southern Miss in 2013, but they did get the monkey off their back winning their last game of the season which was the program's first win since 2011. The Golden Eagles are 1-23 over the past two seasons, but in 2011 the Golden Eagles did go 12-2 so at least there has been history of success in Hattiesburg. The offense really has nowhere to go but up after averaging 17.1 points per game a season ago. 8 offensive starters return including QB Nick Mullens who isn't flashy, but he did show promise towards the end of his freshman season. The defense should also be improved with an experienced secondary coming back along with LB Alan Howze who was granted a medical redshirt after sustaining an injury last season.

5. Louisiana Tech

2013: 4-8 (3-5)

2013 Offense/Defense FBS Rankings: Offense: 113th Defense: 61st
Returning Starters: Offense: 6 Defense: 7

Louisiana Tech's offense fell off the face of the Earth in 2013, but to be fair they had to replace their head coach, QB, and top WR coming into the 2013 season. Everyone expected the offense to be fine with top running back Kenneth Dixon and Tevin King, but with the decline in the pass game the run attack also suffered. The O-line remains a big question mark and that will only make an offensive turnaround less likely. The defense is expected to be a strength with 5 starters returning to a strong secondary along with the addition of Illinois transfer LB Houston Bates. The D-line was deep in 2013 and the backups will fill in the holes of 3 starters moving on.

6. UTEP

2013: 2-10 (1-7)

2013 Offense/Defense FBS Rankings: Offense: 103rd Defense: 118th
Returning Starters: Offense: 9 Defense: 7

The UTEP Miners struggled through crippling injuries on offense last season, but with health comes some optimism. The run game will be the focus with RBs Aaron Jones and Nathan Jeffrey leading the charge. Aaron Jones averaged the most yards per game among freshman in the country in 2013 and he has the ability to be a star when healthy. Texas A&M transfer QB Jameill Showers also was playing well in 2013 until he fell to the injury bug in the seventh game of the 2013 season. If healthy, the offense has the ability to be much improved. UTEP had one of the worst defenses in the country last season, but they should look a little less confused with a year of experience in the 4-2-5. The secondary is the strength, but the front remains a weakness and susceptible to the run.