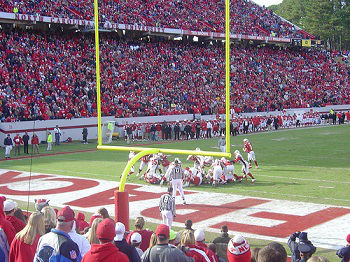 Flickr whateeyesee13
College Football Season is quickly approaching and it is time to take a look at some of my strongest OVER win totals for the 2014 season based on totals released so far. When small schools have their totals released I may be back to add another pick or two.
Going to start with a team in the SEC that should be going bowling this year and get OVER 7 wins (-130) in Miss. St.
They return plenty of starters on both sides of the ball and were a 6 win team last year, asking them to pick up another couple of wins with this schedule should not be too difficult. The have a great QB in Prescott and they are loaded at WR and RB. They do have some offensive line questions but Prescott is mobile and can usually run out of trouble.
Defensively Miss St should be strong in all areas. 2 of their 3 LB's are back, they have plenty of depth up front and experienced corners.
Dan Mullen finally has all the pieces together to make some noise in the SEC.
Lets take a look at their schedule. It sets up very favorable to hit 8 wins (7 would be a worst case senario and a push, not a loss, so getting 7 is key)
Right off the bat we should comfortably be able to mark down 4 wins: home games against Southern Miss, UAB and UT Martin and a road game at South Alabama.
Now for the 8 SEC games we need four wins.....lets see how we get them: 3 likely wins include home games against Vandy and Arkansas and a road game against Kentucky. Lets just put @ LSU and @ Bama down as losses now. The good news is those tough games are on the road, meaning some of their home games will be more winnable. Those games would be against Texas A&M & Auburn, of which they should take at least one of those games giving them 8 wins. They play @ Ole Miss in the Egg Bowl where anything could happen.
I think Miss State ends up with 8 or 9 wins based on this schedule.
Next lets look at the independent BYU Cougars. I think they will get OVER 9 (-135) wins, with again 9 being a worst case senario and a push.
Last year they went 8-4 in the regular season. This year the schedule is a bit different and easier then it was last year. Being an independent they have much more flexibility in who they play. They remove Wisconsin, Notre Dame and Utah from the schedule (all losses from last year) along with Idaho State and Georgia Tech. They are replaced with @UConn, Savanah State, @Cal, UNLV and @UCF. They will play 6 home games and 6 road games again this season and this seasons schedule sets up easier then last year.
BYU has a strong offensive line and great running back combo to help them control time of possession and grind games out if needed. They will need some targets to emerge at WR, but that should not be a major issue. They return Taysom Hill who can get it done w/ his feet and through the air. On the defensive side there are a few question marks, but hopefully with the strong BYU offense some mistakes by the D won't be too hard to overcome.
They play 7 teams from last season (they went 6-1 against those teams) with the only loss being against UVA in a game that featured a weather delay. This year UVA travels to BYU and BYU won't be losing that game (win #1). They also won't be losing to Savanah St (win #2), UNLV (win #3), @Cal (win #4) or @ Middle Tennesse State (win #5). Wins are also extremely likely at home against Nevada (win #6) and Utah State (BYU plays them after a bye week) (Win #7). I expect them to open the season with a win @UConn (win #8). After that UConn game they have a tough trip to Texas and then play Houston on a short week. They will win at least one of those games for win #9 and a push at worse....but I really think they have a strong chance to win both games, as they get Houston at home and Texas may not have things together in week #2 of the season.
Their other two games are at UCF and at Boise State. Both will be tough games but both are winnable games for BYU.
Given the easier schedule I expect BYU to improve on the 8 wins of last year and make it to double digit wins in 2014.
Other teams that were in the running for my strongest win totals for 2014 were:
NC State (over 5.5 wins) but they don't have the depth should the injury bug strike them again this year like it did last year. But they have six winnable home games and two winnable road games on the schedule.
Iowa State (over 3.5 wins) 2 home wins against North Dakota St and Toledo, plus a very winnable road game at Kansas leaves them just needing to beat West Va or Texas Tech at home. Could also grab a win early against K-State.
I will back within a few weeks to preview some teams I expect to finish UNDER their posted win total.