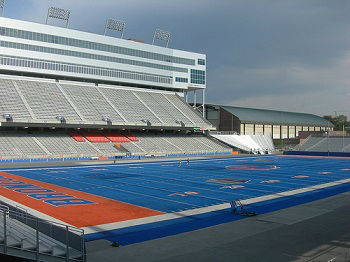 jimmywayne flickr
Mountain Division

1. Boise State

2013: 8-5 (6-2)

2013 Offense/Defense FBS Rankings: Offense: 20th Defense: 50th
Returning Starters: Offense: 6 Defense: 8

Last season was a down year by Boise State standards, but they have the pieces to compete for the MWC title again in 2014. During the offseason Chris Peterson finally decided to take a gig from a "big conference" school as he took the head coaching job at Washington. The new head coach is former OC Bryan Harsin who was working for the Broncos through some of their best seasons in the program's history (2006-2010). Senior QB Grant Hendrick was solid in the last seven games of 2013 when he took the majority of the snaps under center. Boise State is set at RB with Jay Ajayi who is arguably the best halfback in the conference. The O-line is a question mark with just 2 starters returning. Boise State is solid in at every position on defense, but the front line lacks quality depth. The secondary should become a strength with 4 starters returning,

2. Utah State

2013: 9-5 (7-1)

2013 Offense/Defense FBS Rankings: Offense: 51st Defense: 7th
Returning Starters: Offense: 3 Defense: 4

The Aggies had a very interesting 2013 with their star QB Chuckie Keeton going down to an injury part way through the season, but the team hardly skipped a beat with everyone stepping up and taking on a larger responsibility with backup QB Darell Garretson under center. Keeton is back for his senior season, but there will be a lot of new faces around him. The O-line replaced 4 starters, but the new guys look ready and capable to take on starting roles. Utah State also has three solid options at RB with Hill, Hall, and Kennedy, along with two returning WRs with a number of other intriguing prospects at the position. The defense is solid at linebacker and the D-line has the bodies to replace the guys who have moved on. The secondary has taken a hit with four starters moving on, but the front will help if they can create pressure.

3. Colorado State

2013: 8-6 (5-3)

2013 Offense/Defense FBS Rankings: Offense: 23rd Defense: 82nd
Returning Starters: Offense: 6 Defense: 7

The Rams had a record breaking offensive year for their program in 2013 and their starting QB Garrett Grayson is back for one more go round. Colorado State returns 5 guys who caught at least 20 passes a season ago, but RB Kapri Bibbs left early for the NFL. There is likely to be a larger focus in the pass game in 2014 with Bibbs moving on. 4 guys from the O-line were seniors last season so there will be a number of new guys taking on larger roles as starters in 2014, but the coaching staff is pleased with the potential of the new unit. The defense is set at LB with their top 2 tacklers returning and even with a large turnover on the D-line there are the signs the front will be solid again in 2013. The secondary returns 4 starters, but this unit was one of the worst in the country last season.

4. Wyoming

2013: 5-7 (3-5)

2013 Offense/Defense FBS Rankings: Offense: 52nd Defense: 111th
Returning Starters: Offense: 8 Defense: 8

It is sad to see QB Brett Smith move on from Wyoming a year early along with the spread offense that Dave Christensen had implemented with varying success during his 5 seasons as head coach. Christensen is now the OC at Utah and new head coach Craig Bohl will install a pro-style attack. Wyoming returns a plethora of talent at receiver and back, but the Cowboys need to settle on a new starting QB which is likely to be senior Colby Kirkgaard. Wyoming will also have to adapt by adding TEs and a FB into the offense for their first time since going to the spread. What was one of the worst defense's in the MWC last season will return 8 starters and the unit will be switching from the 3-4 to the 4-3. The defense is expected to make strides in the new system with a number of talented guys on the roster, but it will take some time for everyone to adapt.

5. Air Force

2013: 2-10 (0-8)

2013 Offense/Defense FBS Rankings: Offense: 93rd Defense: 119th
Returning Starters: Offense: 6 Defense: 9

2014 will be a season of tough choices for head coach Troy Calhoun as he tries to rebound from a 2-10 campaign where his squad was shutout in conference play. The Falcons have two great options at QB with passer Nate Romine and runner Kale Pearson. Air Force has traditionally run the triple option, but with a great passer like Calhoun the squad could adapt and add more passing to the game plan. However with more of a passing flavor in the offense the Falcons experienced little success in 2013. To make matters even more difficult Air Force has one of the best WR in the conference with Jalen Robinette and what was once a can't miss star RB Jon Lee has turned into a guy that might not live up to his potential because of injuries. Also the O-line is very athletic and conditioned for the triple option, but they can still be effective in pass protection. I'm glad I don't have to decide what direction this offense goes given all the variables in the equation at every position. The defense returns 9 starters to what was one of the worst units in the country. If Air Force continues to put little pressure on opposing QBs I don't see much of anything changing.

6. New Mexico

2013: 3-9 (1-7)

2013 Offense/Defense FBS Rankings: Offense: 43rd Defense: 121st
Returning Starters: Offense: 8 Defense: 6

New Mexico had the 4th best rushing attack in the country in 2013, but that didn't get them much of anywhere with the defense giving up 42.8 points per game. New Mexico returns 8 starters on offense, but there are question marks in the run game with QB Cole Gautsche dealing with concussion issues and the top two backs from a season ago could be gone, one graduating and the other having legal issues. The O-line is set with 3 starters returning along with a former starter who was out last season with injury. The defense was a mess last season, but a lot of work has gone into improving this unit in the offseason. The back 8 return a number of starters and the backend of the defense has put in the effort to become at the very least an improved unit. The D-line has been overhauled with 3 run stuffers coming in from the JUCO ranks.

West Division

1. Nevada

2013: 4-8 (3-5)

2013 Offense/Defense FBS Rankings: Offense: 76th Defense: 104th
Returning Starters: Offense: 8 Defense: 10

The Nevada Wolf Pack are primed to make a significant jump in the MWC this season. Nevada returns the most starters of any squad in the conference and where inexperience held back last season's group, experience should get the 2014 Wolf Pack over the hump. Nevada returns potential All-Conference QB Cody Fajardo who is a dangerous threat in both the pass and run games. The Pack are also set at the skill position with three capable backs in Brock, Jackson, and Butler, mixed with solid options down the depth chart at receiver. The front seven on defense look solid, but they need to produce at a higher level than what they showed in 2013. The backend of the defense remains an issue, but Charles Grant is one of the better corners in the MWC.

2. Fresno State

2013: 11-2 (7-1)

2013 Offense/Defense FBS Rankings: Offense: 6th Defense: 87th
Returning Starters: Offense: 5 Defense: 8

2013 ended with Fresno State losing two of their final three games, but that doesn't take away much from what was a conference championship season for the Bulldogs. Fresno State boasted the top passing game in the FBS averaging 394.8 yards per game through the air, but the Bulldogs have to replace QB Derek Carr who has led the offense since 2010. The battle to replace Carr will be a battle between Brian Burrell and Duke transfer Brandon Connette. Talent is abundant at WR and RB, and it will be interesting to see if the offense keys more towards a run game this season with a new QB under center. Even though the Bulldogs' defense allowed 45+ points in two of their final three contest of 2013 talent and depth return to what should be an improved unit overall.

3. San Diego State

2013: 8-5 (76-2)

2013 Offense/Defense FBS Rankings: Offense: 60th Defense: 93rd
Returning Starters: Offense: 6 Defense: 5

The Aztecs quietly went about their business last season as they closed winning eight of their final ten contests including a 49-24 bowl win over Buffalo. QB Quinn Kaehler took over early on in 2013 after Adam Dingwell was ineffective. Kaehler had elbow surgery in the offseason, but he is expected to be ready for the 2014 season and he has 2 great targets to throw to with Ezell Ruffin and Eric Judge. The defense is set at LB with Jake Fely leading that unit, but the front and backend will have some new faces. The Aztecs are deep along their D-line so they won't have much trouble replacing two starters from a season ago.

4. San Jose State

2013: 6-6 (5-3)

2013 Offense/Defense FBS Rankings: Offense: 45th Defense: 105th
Returning Starters: Offense: 5 Defense: 9

SJSU took a big step backwards as they went from 11-2 in 2012 to 6-6 in 2013, but they closed on a good note taking down previously undefeated Fresno State 62-52 in their last game of the 2013 season. It will be tough for SJSU not to regress again this season with senior QB David Fales moving on to the NFL after throwing for 4,189 yards and 33 TDs during his senior campaign. The Spartans have a QB competition between senior Blake Jurich and junior Joe Gray. SJSU also has to replace WRs Chandler Jones and Noel Grigsby who where two of the best receivers in school history. There are still a number of weapons lefts at receiver, but the Spartans aren't as deep as they were in 2013 at the position. The O-line has to replace 3 starters, but there are a stable of running backs looking to make an impact. The defense returns experience and SJSU brought in the respected DC Greg Robinson to change the team from a 3-4 to a 4-3 scheme.

5. UNLV

2013: 7-6 (5-3)

2013 Offense/Defense FBS Rankings: Offense: 59th Defense: 95th
Returning Starters: Offense: 9 Defense: 6

UNLV is coming off a very successful 2013 where they had their first winning season and bowl game since 2000. The Rebels have to replace starting QB Caleb Herring, but former starting QB Nick Sherry will get his chance to win the job back against JUCO transfer QB Blake Decker. Last season's starting RB and this season's projected starter are now both gone, so it will be RB Shaquille Murray-Lawrence taking on a larger role. The strength of the offense is with the receivers and the O-line which return key players. The defense must replace their two starting tackles, but they are very solid at the end position which will help getting pressure on opposing QBs. The LBs are young, but they have upside and the backend returns 3 starters to what was an improved secondary last season.

6. Hawaii

2013: 1-11 (0-8)

2013 Offense/Defense FBS Rankings: Offense: 73rd Defense: 116th
Returning Starters: Offense: 7 Defense: 6

Every degenerate gamblers favorite team Hawaii has really fallen on hard times since Norm Chow took over the head coaching duties in 2011. Hawaii has been on a harsh decline under Chow and he is on the hot seat coming into 2014 with not much hope on the horizon. There continues to be question marks at the QB position with 4 guys in the mix, but Ikaika Woosley looks like the most likely starter coming out of spring. The RB position will be led by bruising back Joey Iosefa who is a load coming out of the backfield. The defense was a major issue in 2013 and the unit will switch from a 4-3 to 3-4 which might help as Hawaii's best depth and talent is at LB. It will take time for the team to adapt, but the Warriors can't get much worse on defense than what we saw last year.