Category:
NHL
Comments:
0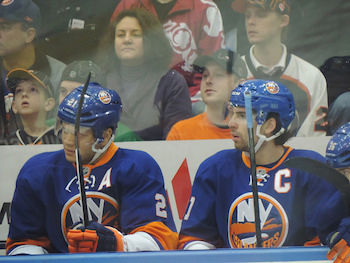 flickr slgckgc Writer: Jimmy Gold
The NHL Season is slated to start in just a few days but before we get to that board banging action, it's time to dissect hockey future odds. Get the best futures odds at 5Dimes. Listed below are our top most valuable NHL future bets:


Vladimir Tarasenko OVER 41.5 goals.
The Russian sniper is ripe and ready for a huge season entering his third full NHL year. Tarasenko is the Blues top winger and possesses huge amounts of skill. He scored 37 goals in 77 games in 2014-2015 and he has a legitimate shot at 50 this year. The Blues will focus on generating more offense and with the 3-on-3 overtime format, Tarasenko is a legit contender to join the 50 goals club.
Rick Nash UNDER 35.5 goals
Rick Nash was absolutely amazing last year, scoring 42 goals. However, he also shot at a 13.8 percentage which is the highest since his 40 goal campaign from 2008-09 with the Columbus Blue Jackets. New York lost one of their biggest offensive threats in Martin St. Louis and defenses around the league will be focused on shutting down Nash. Not to mention Nash is as inconsistent as they come. 36 goals will be hard to come by this year.
Sean Monahan UNDER 32.5 goals
Monahan was incredible last year, facing the stiffest competition in his career as the Flames had major injuries to their centers. Monahan met the challenges and scored 31 goals in 81 games. He did that however, shooting 16.2%. Last year, Monahan shot 15.7% over 75 games. The regression is coming and we expect Monahan to come back to earth in his third pro season.
Connor McDavid to win Calder Memorial Trophy +140
McDavid is a generational talent and he has already been showing his value in preseason, scoring 4 points in his first three games. McDavid is going to have a better supporting cast then Sidney Crosby had when he entered the league. He will be playing with Taylor Hall and Nail Yakupov or Jordan Eberle. A 60 point season is not out of the question at all. McDavid should be a favorite, make Vegas pay with this one.
Florida Panthers OVER 36.5 wins
The Panthers have a solid team in the Atlantic Division and they finished 38-29-15 last season. The addition of Jaromir Jagr is the difference with this team. After they got him, they went 12-7-1. The top line of Huberdeau, Jagr, Barkov is for real. The sky is the limit for Huberdeau after shooting just above 8% last year. The Cat's center could hit his first 20 goal season this year if his puck luck improves. Florida also has solid goaltending with Roberto Loungo I see the Panthers approaching the 100 point mark this season.